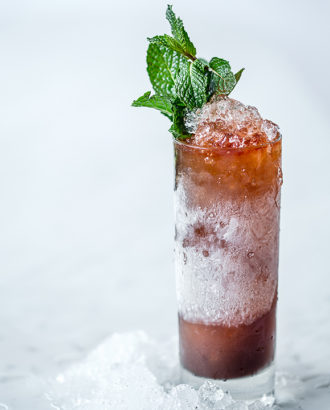 Tequila and sherry form a perfect combo, as do Fernet-Vallet and fresh ginger—and all together? It's a mix that's spicy, rich and sublime. Meet the Fernet Swizzle.
1 ½ oz. reposado tequila
1 oz. amontillado sherry
¾ oz. fresh lime juice
½ oz. demerara syrup
¼ oz. ginger juice
¼ oz. Fernet-Vallet (or ½ oz. of Fernet-Branca)
3 dashes Angostura bitters
2 makrut lime leaves (optional)
Tools: muddler, swizzle stick or bar spoon
Glass: Collins
Garnish: mint sprig and additional
dashes of Angostura bitters
Muddle the makrut lime leaves (if using) with the demerara syrup in a Collins glass. Add the remaining ingredients to the glass and fill three-quarters full with crushed ice. Use a swizzle stick or barspoon to swizzle the mixture until cold. Pack the glass with ice to form a rounded mound on top, and dash Angostura bitters over the ice. Garnish.
Josh Kelly, Good Bar, Seattle