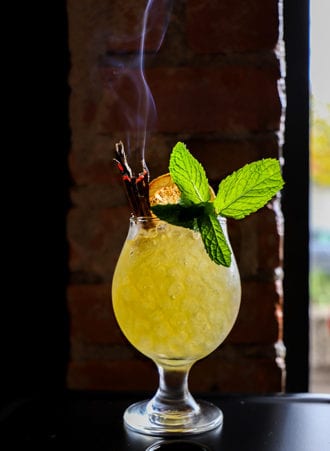 In this fall smash from Detroit, bourbon and passion fruit meet maple syrup and cinnamon.
1½ oz. bourbon
½ oz. maple syrup
½ oz. fresh lemon juice
¾ oz. passion fruit juice
2 dashes cinnamon bitters
Tools: blender
Glass: tulip
Garnish: mint, smoking cinnamon, dehydrated lemon wheel (or fresh)
Fill a glass with crushed ice. Shake all of the ingredients in a shaker with ice until well chilled, then strain into the ice-filled glass, top with more crushed ice and garnish.
Roger Fruin, The Peterboro, Detroit
---
Did you enjoy this recipe? Sign up for our newsletter and get weekly recipes and articles in your inbox.