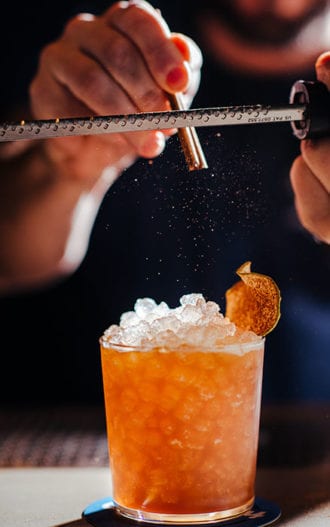 Whiskey and amaro are a natural flavor match, and in this fall cocktail the baking spice notes of both ingredients dovetail perfectly with lemon and cider.
1½ oz. bourbon
½ oz. Averna
¾ oz. cider syrup
¾ oz. fresh lemon juice
Tools: shaker, strainer
Glass: rocks
Garnish: dehydrated apple chip
Combine all of the ingredients in a shaker with ice and shake to chill. Strain into a rocks glass over crushed ice. Garnish.
Cider Syrup
4 oz. apple cider
4 oz. raw sugar
2 oz. honey
2 cinnamon sticks
2 star anise pods
1 Tbsp whole allspice
1 tsp whole cloves
Dissolve the sugar and honey in apple cider over low heat and steep with spices to taste. Once cooled, strain out the spices and refrigerate for up to 2 weeks.
Evan Wolf, The Company Burger, New Orleans
---
Did you enjoy this recipe? Sign up for our newsletter and get weekly recipes and articles in your inbox.