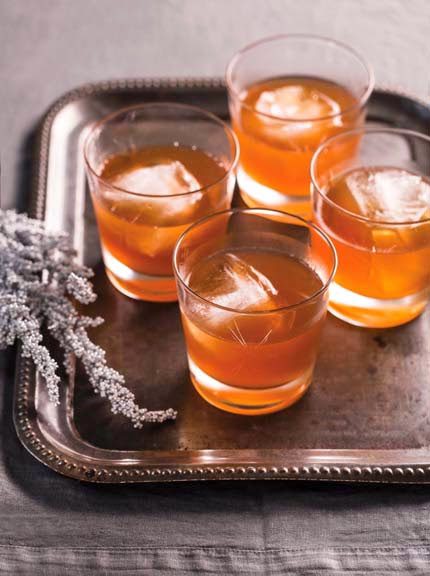 One of the 50 festive recipes featured in Imbibe's book Cocktails for the Holidays, this drink grabbed our attention right away, with a name that calls to mind one of the sweetest Christmas songs we know. Combining whisky with orange peel, walnut bitters and a fruity, spiced syrup, it's a delicious riff on one of the most enduring classic cocktails, the Old Fashioned, and a perfect drink for any wintry holiday gathering.
"The notes of spice, vanilla and toffee from the whisky go nicely with the hint of orange, which pairs perfectly with the slight sweetness of the apple and pear syrup" says the drink's creator, Toronto bartender Dave Mitton. "And that touch of cinnamon and walnut from the bitters brings it all together and makes a damn good Canadian version of an Old Fashioned."
1 piece of orange peel (about 1 by 2 inches)
3/4 oz. Winter Warmth Syrup
2 dashes of Fee Brothers black walnut bitters
2 oz. Canadian whisky
Tools: mixing glass, muddler, barspoon, strainer
Glass: Old Fashioned
Place the orange peel in a mixing glass, pour in the syrup and bitters, and muddle. Pour in the whisky, add ice, and stir until to chill. Strain over 1 large ice cube in an Old Fashioned glass.
Winter Warmth Syrup
1 1/2 cups water
1 cup Demerara sugar
1/2 apple, peeled, cored, and diced
1/2 pear, peeled, cored, and diced
12 walnut halves
3 cinnamon sticks, broken up
6 whole cloves
1 whole nutmeg
Combine all ingredients in a saucepan over medium heat. Bring to a simmer, stirring until the sugar dissolves, and simmer for 10 to 20 minutes. Remove from the heat and cool. Strain into a clean glass bottle, cover and refrigerate for up to 2 weeks. Makes about 2 cups.
Dave Mitton, The Harbord Room, Toronto, Canada