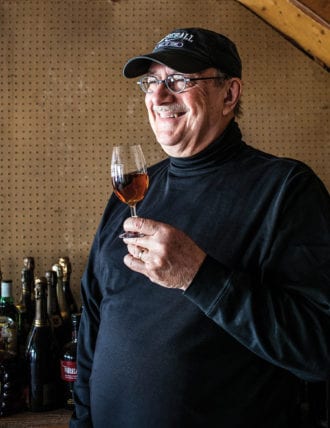 It's 5:30 in the morning, and F. Paul Pacult is up and ready for the day. By 8:30, he's drinking. Okay—tasting, not drinking. Pacult, a renowned authority on spirits, leads a sort of reverse-Hemingway existence in his Hudson Valley home. Whereas the novelist used to boast that he spent each morning writing and didn't touch a drop until the clock struck 12, Pacult spends his mornings sipping and doesn't get to the writing until afternoon.
As he enters his office each morning, six glasses of liquor await him. The spirits were chosen by his wife and business partner, Sue Woodley, the night, or just hours, before. Pacult sits down and begins the day's work, spending a half hour or more with each dram, taking notes on the appearance, smell, and taste of each liquid. His impressions will later become an entry in F. Paul Pacult's Spirit Journal, an ad-free, subscription newsletter he's published quarterly for three decades.
Some of those spirits have been waiting months to meet the judgment of Pacult's discerning nose and palate. Ever since he wrote a series of articles on scotch and Cognac for The New York Times in the late 1980s, bottles have piled up at his doorstep. Today, many are delivered to a warehouse 15 miles from his home until Pacult—a "notoriously slow" worker by his own account—can finally tend to them. "I had this little office on First Avenue between 53rd and 54th Streets" in the 1990s, recalls Pacult. "I could barely get into it because all these distillers were sending me their products. That's how the Spirit Journal started—just to deal with the overflow. It happened by accident. This whole thing is an accident."
Other career moves since the founding of the journal, for which 30,000 subscribers pay $55 annually, have not been accidental. In 1997, he published his first book, Kindred Spirits, a collection of his reviews. In 2006, he joined forces with fellow booze experts Dale DeGroff, Doug Frost, Steve Olson, and David Wondrich to form the Beverage Alcohol Resource (BAR), an organization that conducts an annual five-day, immersive course in spirits and cocktail history and practice, as well as a miniature, road-show version called BarSmarts. In 2009, he resigned as a judge for all spirits competitions to build a better mousetrap, founding the annual Ultimate Beverage Challenge in 2010. And then there are the various educational seminars he pilots solo around the United States: "The Brandy Authority," "The Rum Authority," and "The Whiskey Authority."
Altogether, Pacult's pursuits have over the years shaped him into kind of an all-knowing spirituous oracle, a J.D. Powers of liquor, whose verdicts are sought by producers and consumers alike. If you see a spirits ad in a subway station or on the side of the highway boasting of a five-star review, chances are it came from Pacult. "Paul was always to me the dean of the spirits writers," says Arthur Shapiro, who was chief marketing officer at Seagram's when he met Pacult decades ago. "He was among the first, and I think he set the tone."
Indeed, Pacult looks a bit like a dean, or a professor at least. In a time when many spirits experts have adopted an edgy, rock-and- roll persona, Pacult—with his black turtlenecks, oval glasses, and neatly trimmed Anthony Eden moustache—looks like a mid-20th century fantasy ideal of a spirits writer. He speaks carefully and softly, peppering his talk with English slang like "chap" and "lad." One half expects him to pull out a pipe and start puffing between pronouncements on Armagnac.
In a time when many spirits experts have adopted an edgy, rock-and- roll persona, Pacult—with his black turtlenecks, oval glasses, and neatly trimmed Anthony Eden moustache—looks like a mid-20th century fantasy ideal of a spirits writer.
Never was his studied character cast in higher relief than when he co-hosted a mid-'90s radio show called "Happy Hour" with Gary Regan, the late English bartender, writer, and all-around rogue. Pacult would arrive in shirt and tie an hour before each show to prepare, while Regan, in sandals and Hawaiian shirt, would roll in 30 seconds before airtime. Their Martin and Lewis chemistry clicked, and the Saturday-afternoon New York show—the only one then devoted to drinking culture—expanded to 11 markets before corporate sponsors pulled the plug after two years. By then, they'd interviewed just about everyone in the spirits and bar business. Many industry professionals first encountered Pacult on the show.
"They put me at ease immediately," says Joe Magliocco, the founder of Chatham Imports, who later was responsible for resurrecting the Michter's whiskey name. "I actually had fun." For Magliocco and others in the then-neglected spirits business, Pacult was a godsend. "I think Paul has been a transformative figure in modern spirits coverage. As far as I'm concerned, he's an industry treasure. He's basically changed the way spirits are covered."
Pacult didn't start in spirits; he was originally a wine guy. Born in Illinois and educated at Berkeley as a journalism major (before dropping out to travel), he worked for 10 years in a variety of roles for winemaker Rodney Strong. During his last three years at the winery, Pacult penned the company newsletter. Eventually, he moved to New York to try writing full time, and he started a wine school. It was there that a New York Times executive approached him about writing about Scotch whisky for a special advertising section in the Sunday magazine. Pacult protested that he knew nothing about scotch, but he took the assignment anyway. "Thank God I said yes," he says more than 30 years later.
If written today, Pacult's piece on the scotch industry would've been just a drop in what's become an ocean of contemporary whiskey writing. In 1989, it was a 10,000-plus- word anomaly. Someone was actually paying attention to spirits—and in the Times, no less. "Back then," quips Shapiro, "there were three brands: Glenlivet, Glenfiddich, and all the others." Times were tough for the American whiskey business, recalls Magliocco. "The 1970s, '80s, and '90s were almost a virtual depression. Whiskey was out of fashion. Spirits in general weren't doing great. It was amazing to me that he was doing that at that time." The reaction to the article was so strong that it was followed by a second piece on scotch, then one on Cognac. Soon, wine critic Robert M. Parker Jr. was encouraging him to start a newsletter, a sort of spirits equivalent of Parker's influential Wine Advocate. Spirit Journal debuted in 1991.
Shapiro saw Pacult as representing the future of the business. "The three-tier system meant people didn't think much about consumers," he explains. "Management C concerned ourselves with distributor relationships and M relationships with the trade. It was almost as if when the bottle got to the shelf, our job was done. Not many industry Y observers were actively looking into the history, the drinks, or CM the quality of the beverage from the consumer's standpoint."
In late 2018, subscribers to Spirit Journal were sent an issue with the headine "Gone Writing." Pacult and Woodley CY have placed the newsletter on hiatus so that they can concentrate on two books: a third edition of Kindred Spirits and a biography of Buffalo Trace, the Kentucky distillery. Part K of Pacult's research for the former—which will feature 2,400 new reviews, and be out later this year—involves returning to bottles he's reviewed in the past. "Things change," he says. "I reviewed Johnnie Walker Red back in Kindred Spirits. That was 1997. I tasted it just a couple of weeks ago. It's not the same. Completely different. I think they bumped the malt content up. So Johnnie Walker 2020 is a much bigger whisky than it was in 1997."
Also, after decades of critiquing other people's distillates, Pacult has finally fashioned a few of his own. Palm Bay International, a Long Island–based importer, asked him to see what he could do with 2,600 barrels of whiskey they'd purchased from MGP and George Dickel. Pacult married 60 of them into a new blended American whiskey called Jacob's Pardon, to be released later this year. He additionally plucked two barrels of 15-year-old light whiskey he called "so cherry, so ace," that he decided should be bottled as limited-edition, single-cask whiskeys.
Will Pacult's name be on the label? He seems mildly shocked by the suggestion. "I'll be happy to mention it," he demurs. "I don't think it would be a good thing. I don't want to take away from the brand."
It was a typical Pacult move. In a world when colleagues like Dale DeGroff and David Wondrich travel the globe as quasi-celebrities, Pacult remains something of an industry secret. And he seems to prefer it that way. "My dad used to tell me the real power happens behind the scenes," he says. "I've always remembered that."
---
Did you enjoy this article? Get more of the best of liquid culture when you sign up for a print or digital subscription to Imbibe Magazine. Click here for special savings!