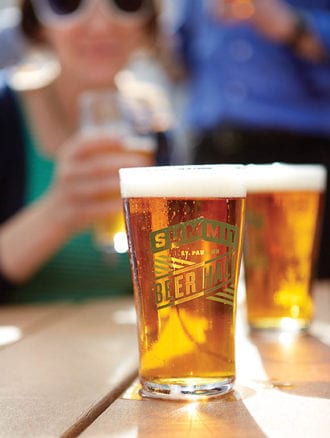 Summer beer season is all about finding cans and bottles that are easy to drink, and in our July/August 2017 issue, contributing editor Joshua Bernstein turns his attention to one of the most refreshing beers of late: the Extra Pale Ale. The "classic" EPA lands somewhere between a session IPA and IPA, he says. "Moderate in strength and balanced, much like its namesake but with certain elements cranked to eleven … the extra pale ale is a perfect summer beer for drinkers sick of watery session IPAs, plus double IPA obsessives looking to dial alcohol down a notch. It's everything to everyone, mainly because no one knows what it means." Pick up a copy of the issue to read more about the style, and check out these five beers Bernstein considers to be cornerstones of the style.
Alesmith Brewing Company |  X Extra Pale Ale
The San Diego brewery has made batches of this house classic since the late '90s. Lighter in hue than most, the "extra" in the beer's name refers to the color, but just because it's a soft golden-yellow doesn't mean the brew lacks in personality. Made with nine different hop varieties, an interplay of citrus and pine defines the crisp crusher.
Berkshire Brewing Company | Steel Rail Extra Pale Ale
At an easygoing 5.2% ABV, this light-colored EPA was the flagship beer for the Massachusetts brewery, which was established in 1994. The sipper has a medium-bodied malt element driven by 2-row pale malts, a low bitterness and refreshingly crisp cracker-like bite to the finish.
Flying Fish Brewing Company | Extra Pale Ale
The Extra Pale Ale was the first beer made at the New Jersey brewery in 1996, and the best-selling local offering at the local ballpark since going on tap in 2000. "It translates well in a variety of situations," says founder Gene Muller. "With it's lower ABV and high quaffability, it's something that you can enjoy over the course of a game or bbq. It's also a nice change from so many hop forward beers."
SweetWater Brewing Company | 420
One of the flagship beers from Atlanta's beloved SweetWater, 420 (named for the date it was first brewed) was also an early pioneer in the EPA category. The award-winning brew hovers around a light 5.7% ABV and features a balanced bouquet of Cascade and Centennial hops.
Summit Brewing Co. | Extra Pale Ale
Another 5.2% ABV beauty, Summit's 1980s-era brew has held it's own as the EPA style grows and evolves. Still responsible for half of the brewery's production, Bernstein says the beer is a steadfast classic with "a sturdy malt undercarriage, caramel and biscuit playing to the earthy bitterness and citrusy scent."
---
Like what you see? Get more of the best of liquid culture when you sign up for our bi-monthly magazine. Subscribe now and save up to 59%—it's just $21.95 for one year or $32.95 for two years. Click here for details.