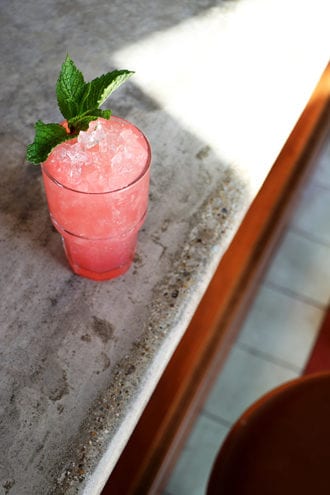 Charanda shines bright with tropical fruit notes when paired with the sweet-tart ping of fresh raspberries in this cocktail from Estereo in Chicago.
1½ oz. charanda
½ oz. blanc vermouth (Estereo uses Mata Blanco)
½ oz. raspberry syrup
½ oz. fresh lime juice
½ oz. simple syrup (1:1)
2 dashes Bittermens 'Elemakule Tiki Bitters
Tools: swizzle stick
Glass: Collins
Garnish: mint sprig
Combine all of the ingredients in a Collins glass with crushed ice and swizzle to combine. Top with more crushed ice and garnish.
Raspberry Syrup:
1 cup raspberries
2 cups water
2 cups sugar
¼ oz. Cuban-style white rum
Buzz the ingredients together in a blender on high for 1 minute. Let the syrup sit for 2 hours, then fine strain it into a bottle and refrigerate for up to 2 weeks.

Michael Rubel, Estereo, Chicago
---
Did you enjoy this recipe? Sign up for our newsletter and get weekly recipes and articles in your inbox.