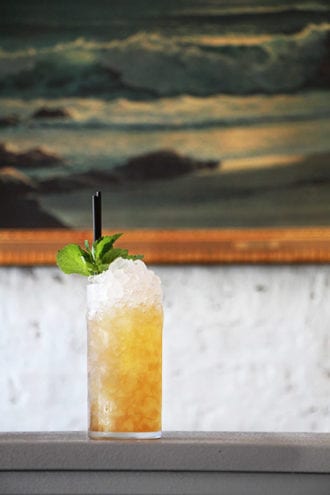 Nutty sherry and earthy mezcal make this swizzle an unexpected departure from the typical rum-based recipes.
1 oz. mezcal
1 oz. amontillado sherry
¾ oz. fresh lime juice
½ oz. falernum (Shapiro uses BroVo Lucky Falernum)
½ oz. ginger syrup (1:1)
Mint sprig
Tools: swizzle stick
Glass: Collins
Garnish: mint sprig
Combine the ingredients in a Collins glass. Fill the glass halfway with crushed ice. Stir using a swizzle stick. Top the glass with more crushed ice. Garnish.
Danny Shapiro, Sink/Swim, Chicago