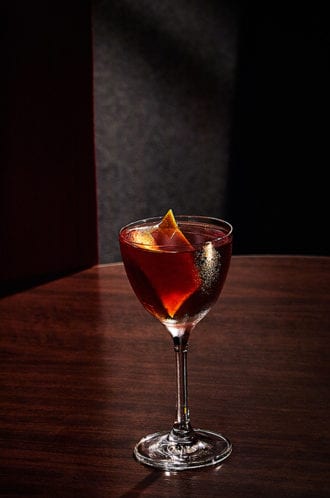 Made with Irish whiskey instead of rye or bourbon, the Emerald Cocktail is an elegant sidestep from the classic Manhattan. At The Dean Bar in Rhode Island, bartender Parker Lutherman uses both orange and Angostura bitters. "While we were developing The Dean Bar's opening menu, we discovered the Emerald cocktail and, as lovers of Manhattan variants, we wanted to bring this Irish whiskey classic to our guests," he says. "It's an incredibly smooth cocktail, with enticing notes of dried fruits, caramelized banana, and soft baking spices."
2 oz. Irish whiskey (Dean Bar uses Tullamore Dew Irish X.O. Rum Cask Whiskey)
1 oz. sweet vermouth (Dean Bar uses Cocchi vermouth di Torino)
2 dashes of orange bitters
1 dash of angostura bitters
Tools: mixing glass, barspoon
Glass: Nick & Nora
Garnish: orange peel
Stir the ingredients together in a mixing glass with ice. Strain into a chilled glass. Express the oils of an orange peel over the top of the drink and use as a garnish.
Parker Lutherman, The Dean Bar, Providence, Rhode Island
---
Did you enjoy this recipe? Sign up for our newsletter and get weekly recipes and articles in your inbox.