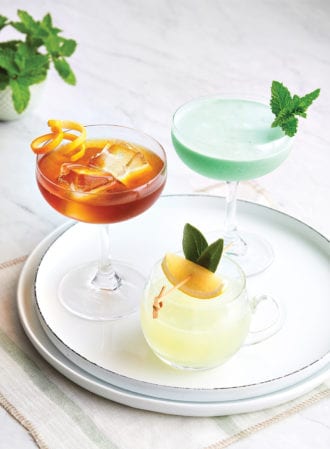 There's a scene in the first season of Mad Men where, low on whiskey and Martini fixings, the office crew fills a water cooler with green crème de menthe. In some ways, this symbolizes how the modern bar world has viewed the liqueur: an oddity best left in another era. But crème de menthe has a rich cocktail history that stretches beyond the Grasshopper and includes notables such as the Stinger. When deployed with discretion, it can lend a minty zip to a range of recipes.
The liqueur's neon green color was long a central piece of the perception problem (though also a part of the liqueur's identity). "Artificial sweetening and coloring was a clear association with most 'crème de' liqueurs," says Chantal Tseng, head Reading Room bartender at Washington, D.C.'s Petworth Citizen.
"It's easy to be skeptical of the liqueur," adds Eden Laurin, managing partner of Chicago's The Violet Hour. Laurin and head mixologist and partner Toby Maloney have served a Grasshopper riff dubbed The Chapuline, its Latin American transformation made possible with pisco. "Crème de menthe brings something different to cocktails—it contributes a sweeter, more rounded mint flavor than just a sprig would, and that sugar content can help balance out a drink," she says.
Tempus Fugit's Crème de Menthe and Giffard's Menthe- Pastille helped turn the mint liqueur tide, and other craft distillers have joined in, such as Sound Spirits with its Depth Menthe Liqueur and District Distilling's Crème de Menthe. Many of these producers eschew the green coloring long associated with crème de menthe, and the liqueurs from Giffard and Sound Spirits are both drier, with sugar levels below the "crème de" threshold.
Tseng has found new brands so intriguing that she's served a number of crème de menthe cocktails at her weekly Literary Cocktails event, with menus based on specific books and authors. Michael Neff, bar director at Houston's The Cottonmouth Club, had a similar crème de menthe awakening, and he deploys the liqueur alongside bourbon and Fernet Branca in the Oi Oi Oi. Many of these cocktails reach beyond the realm of dessert drinks. "You can mix crème de menthe with a smoky amaro for an after-dinner digestif or go bright with citrus, like lemon, and use fresh mint in your drink to layer the flavors," Laurin says.
Nothing against the Grasshopper, though. "The cocktail world has a range that includes dessert and sweeter libations," Tseng says. "When you use quality ingredients and allow yourself some flexibility, your cocktails will be tasty."
---
It
Inspired by the Stephen King novel, this drink matches crème de menthe's richness with the herbaceous flavors of aquavit and Chartreuse.
1½ oz. aquavit
½ oz. green Chartreuse
½ oz. fresh lime juice
¼ oz. white crème de menthe (Tseng uses Tempus Fugit)
Tools: shaker, strainer, fine strainer Glass: punch cup
Garnish: lemon wedge and
2 sage leaves (arranged to look like a little sailboat)
Shake all the ingredients with ice, strain into chilled cup, then garnish.
Chantal Tseng, Petworth Citizen & Reading Room Washington, D.C.
The Chapuline
Green crème de menthe gives this Grasshopper riff its verdant hue, while pisco lends the drink a South American twist.
1 oz. pisco
1 oz. heavy cream
¾ oz. white crème de cacao
½ oz. green crème de menthe (Maloney uses Marie Brizard)
Tools: shaker, strainer
Glass: coupe
Garnish: mint leaf
Shake all the ingredients with ice and strain into a chilled glass, then garnish.
Toby Maloney, The Violet Hour, Chicago
Oi Oi Oi
Crème de menthe steps out of the dessert-drink neighborhood in this bold sipper.
2 oz. bourbon
¾ oz. Fernet-Branca
½ oz. white crème de menthe (Neff uses Tempus Fugit)
Tools: barspoon, strainer
Glass: cocktail
Garnish: lemon and orange peel
Stir all the ingredients with ice to chill, then strain into a glass holding 2 ice cubes. Garnish.
Michael Neff, The Cottonmouth Club, Houston
---
Did you enjoy this article? Get more of the best of liquid culture when you sign up for a print or digital subscription to Imbibe Magazine. Click here for special savings!