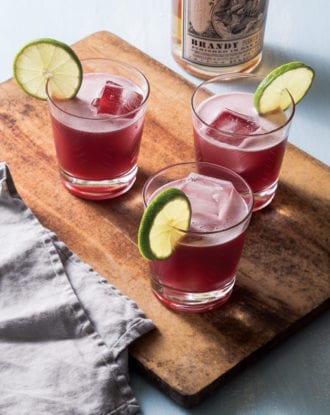 At Gaspar in San Francisco, upstairs bar The Cognac Room occasionally strays from its namesake spirit, using California brandy in cocktails, such as a Stinger variation and this adaptation of a Charles H. Baker classic.
1½ oz. California brandy
½ oz. ruby port
¾ oz. fresh lime juice
½ oz. pineapple gum syrup (such as Small Hand Foods)
¼ oz. grenadine
2 dashes Angostura bitters
Tools: shaker, strainer
Glass: large rocks
Garnish: lime wheel
Shake all of the ingredients with ice to chill, then strain into a glass filled with fresh ice. garnish.
Adapted by Gabriel Lowe for The Cognac Room, San Francisco
---
Did you enjoy this recipe? Sign up for our newsletter and get weekly recipes and articles in your inbox.