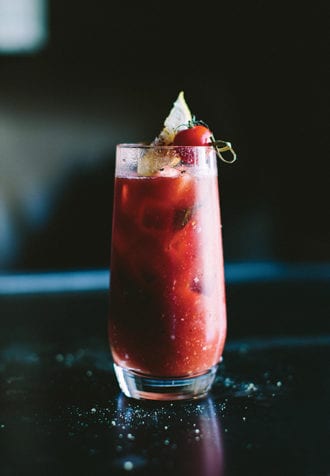 At Eichardt's Bar, a familiar brunch drink gets a boost of fresh basil and tawny port.
3 oz. tomato juice
2 oz. vodka
1 oz. fresh lemon juice
½ oz. Worcestershire sauce
3 dashes hot sauce
4 grinds black pepper
1 pinch celery salt
2 cherry tomatoes, halved
1 tsp. horseradish
5 basil leaves
1/3 oz. tawny port
Tools: muddler, strainer
Glass: highball
Garnish: fresh basil, lemon wedge and halved cherry tomato, speared and dusted with celery salt and black pepper
In a mixing glass, muddle half a cherry tomato with the vodka, pepper and celery salt. Slap the basil leaves to release their oils, then add them to the mixing glass along with the remaining ingredients except the port. Add several ice cubes and use another mixing glass to gently roll the mixture back and forth between the two glasses. Strain into an ice-filled glass, then drizzle port atop the drink and garnish.
Eichardt's Bar, Eichardt's Private Hotel, Queenstown, New Zealand
---
Did you enjoy this recipe? Sign up for our newsletter and get our favorite drink recipes of the moment in your inbox every month.