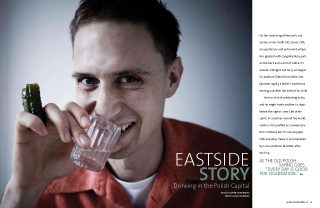 On the main drag of Warsaw's city center, a man strolls into Sense Café, an upscale bar and restaurant, where he's greeted with congratulatory pats on the back and a shot of vodka. It's around midnight and he's just begun his pepkowe (literal translation: bellybutton night), a father's traditional evening out after the birth of his child. He has a lot of celebrating to do, and he might make another 10 stops before the night is over. Like other spirits in countries around the world, vodka is still quaffed in commemoration in Poland, but it's also enjoyed with everyday meals or accompanied by a sour pickle to be bitten after each sip.
As the old Polish saying goes, "Every day is good for celebration."
Something Old, Something New
At U Kucharzy (The Chefs'), a restaurant set in the restored kitchens of the old Europejski Hotel on Ossolinskich St., vodka is served with a traditional Polish lunch. Andrzej Smolik, a composer-cum-music producer, sips his glass of chilled potato vodka rather than downing it in one shot (as is customary) so I won't feel like a complete outcast as I sip mine. We've both ordered the breaded pork chop, considered by many to be Poland's national dish, only mine comes without the optional fried egg on top. We slurp zurek (tasty soured rye flour soup with boiled kielbasa morsels) and nibble on pierogi (satisfying potato-and-cheese-stuffed dumplings served with sour cream) before the main course arrives. I've never paired straight vodka with food, but it goes down surprisingly well.
At Sense, with its Asian-fusion menu and lengthy vodka list, the clear spirit is infused with cucumber, chili and mint. Rather than fight vodka's innate ability to soak up the flavors of whatever is in it, Kai Schoenhals, the former owner of Sense, decided to surrender to its affability. He and his wife, the famous Polish actress Katarzyna Figura, sold the bar in 2002 but still enjoy popping in for a drink. We order a shot of Kai's favorite house infusion, a rose petal and ginger concoction he cooked up when he was still in charge, accompanied by a sashimi "lollipop" served with a scoop of wasabi sorbet. Not exactly traditional Polish fare, but there are still plenty of locals who prefer their fish pickled and would be loath to put fruit (or flowers) in their wòdka.
Like the physical landscape of the city, Warsaw's drinking culture has undergone a transformation over the years. With nine out of 10 buildings blown up by the Nazis during World War II, the city began rebuilding almost immediately. The fall of Communism in 1989 brought about a new wave of construction, which has seen the era's concrete blocks replaced with sleek modern skyscrapers (like the one housing the Marriott Hotel, whose 40th floor Panorama Bar is the highest place in the city to have a drink). Drinks are also changing, as vodka, neat, is gently making way for craft beer and designer cocktails.
A Spirited Place
Poland produces more than 250 million liters of vodka annually, some 40 percent of the European Union's total production, and Poles put away an average of four liters of vodka per person each year. Surprisingly, the country still manages to import about 3 million liters of the spirit annually. Like Russians and Scandinavians, Poles claim to have invented vodka, sometime around the 15th century. Originally, it was distilled from potatoes, and though potato vodka would later bear the stigma of the peasant's drink of choice, independent distilleries using fresh ingredients and meticulous methods have led to a revived interest in and appreciation of potato vodka.
Chopin potato vodka, for example, enjoys a following not only in Warsaw's hip bars, but also in sleek cocktail lounges around the world. It's distilled four times from pesticide-free potatoes in the Podlasie (pronounced "po-lashee") agricultural region 75 miles east of the Polish capital, which boasts some of the most fertile and unspoiled land in Europe. The starchiness of the potatoes makes for a sweet and creamy flavor and texture. Unlike many of today's top-shelf vodkas that are distilled numerous times, multiple distillations are not in vogue among potato vodka makers. These distillers tend to favor between two and four distillations in order to preserve the essence of the original ingredient
The Chopin distillery, which is open to visitors, also produces Krzeska, an herbal "assemblage" or nalewka similar to those that have been made in Poland for centuries. Said to hold medicinal properties, vodka-based nalewkas are aged, unlike most liqueurs. Popular nalewkas, such as Old Krupnik honey liqueur, can be found in the U.S., but Krzeska is available only in Poland. Grassy amber in color, this fragrant liqueur gives off the bouquet of its ingredients: rosemary, lavender and basil. It can be enjoyed straight up in an old fashioned glass before a meal to open up the appetite or afterwards to help soothe a full belly.
You don't have to leave Warsaw to visit a distillery, however. The Koneser Vodka Factory in the Old Praga district on the east side of the Vistula River produces a selection of potato, grain and corn-based vodkas, predominantly mid-market brands, that are sold in stores in and around Warsaw. Tours of the distillery start at 30 zlotych ($12), including sampling, and take visitors through the more than 110-year-old factory in the old industrial neighborhood, from fermenting to blending. Formerly considered seedy and dangerous, Old Praga has been reborn as a hipster haven in Warsaw, with a number of abandoned factories now converted into artist lofts and galleries. The neighborhood still lays claim to a seamy underbelly, though, so visitors should be aware as they wander.
Mixed Blessings
A wry, somewhat self-deprecating sense of humor prevails in the Polish capital, as evidenced by the 82-foot-high plastic palm tree that springs up from the roundabout in the city center. Young Warsovians joke about not being as edgy as, for instance, Berliners, but they know how far their country and city have come since 1989. As the nation prepares to adopt the euro in the next few years (a date has yet to be set), Warsaw gets ready to join the ranks of Prague and Budapest as the next hip Eastern European destination. Hole-in-the-wall taverns are giving way to trendy establishments, and while 10 years ago the city's streets were empty by 8 p.m., nowadays they teem with people at midnight on a Friday or Saturday.
Cocktail artistry hasn't quite broken through the cocktail scene as a full-blown craze yet in Warsaw, but certain restaurateurs and bar owners are pioneering the movement by using fresh, seasonal ingredients and experimenting with creative recipes. Schoenhals, who now owns the Mediterranean-influenced Restaurant KOM with its intimate lounge, is one of the city's driving forces when it comes to the art of the cocktail. He says locals are a little behind the trendsetters of Krakow, but they have a growing appetite for all things associated with the West. This doesn't mean they aren't fiercely proud of their Eastern European traditions. The result, in many of the more fashionable bars, is an American-style cocktail menu with a decidedly Polish flavor.
Paparazzi Café Bar, a true cocktail bar and the Warsaw outpost of the original location in Krakow, claims to have introduced the capital to the mojito, a drink that can now be found in nearly every bar in the city. Head mixologist and drinks consultant Martin Kastrzycki says Paparazzi was completely unique to the scene when it opened five years ago. Today, however, as cocktail culture is becoming more sophisticated and widespread, Varsovians have several options for bars employing skilled staff and serving custom drink recipes. Paparazzi's list of house cocktails, for instance, includes the Polmos (meaning "distillery") Cooler made with Polish Zubrowka bison grass vodka, Crème de Pêche, passion fruit puree and pressed apple juice.
Polish Sudsage
While vodka is still considered the national tipple, beer has emerged as another favorite pastime. In 1998, beer consumption actually surpassed that of vodka, due in part to younger Poles wishing to distance themselves from the old vodka ways of their elders.
Available everywhere and brewed in one of the country's oldest breweries, Królewskie and Zywiec are two of Poland's main macro-brews. Tyskie, another best-selling brand, is a German-style pilsner that has won several international brewing awards. Poland has a long-standing tradition of pilsners, and its best, including Kiper and BOSS, are able to compete with the finest from Germany and the Czech Republic.
A number of small breweries have also emerged over the last decade, but distribution of craft beer tends to remain local. Still, certain craft breweries like Relakspol and Jagiello, one of the first to market an organic beer, have managed to place their product in cities around the country. Craft breweries often produce several pale lagers, popular among Poles, which means variety of other styles is often limited. Wheat beer, dark lager and porter are also common offerings.
What is difficult to find—though not, I'm assured, impossible—is the legendary Grodziskie, a top-fermented, oak-smoked wheat beer and one of the oldest ales produced in Europe. First brewed in the 14th century, it was produced until 1993, when the brewer decided it had become too expensive to make. Today, microbreweries will brew quasi-grodziskie ales to submit for beer competitions, but these tend to be one-offs. Beer-loving Poles like to bemoan the disappearance of the historic brew, hoping someone will take up the cause of making it again. The abandoned Grodziskie brewery still stands as a reminder, and a group of brewers and businessmen met in 2007 to discuss reviving it.
As the rest of Warsaw's bar scene changes, so does its pub scene. Four brewpubs have cropped up in the last five years. Bierhalle's three locations serve German-style house brews, including several top-fermenting wheat beers. Browarmia, with its sleeker décor and more sophisticated menu, features Belgian and English-style ales, such as its sweet-yet-tart raspberry summer Wheat, and a roasted barley and chocolate malt Stout. At the crowded Nora Pub, with its extensive selection of beer on tap, you'll find at least 10 pale lagers, as well as a dark lager and porter thrown into the mix.
Smoking is permitted in bars and restaurants, as is the case in much of the former Eastern Bloc, which will come as a pleasant surprise to some and a disappointment to others. Pubs in Warsaw tend to attract the very youngest of drinkers, so it isn't uncommon for anyone over 30 to be the oldest person in the bar. Again, this could be a plus or a minus, depending on who you ask.
Mighty Joe
Much like Turkish coffee, introduced to Poles during wars between Poland and the Ottoman Empire, traditional Polish coffee is thick and strong, and usually generously sweetened. Brewed by simply adding boiling water to fresh ground beans in a tall glass (think French press without the press) it's enjoyed once the grounds sink to the bottom. While old-school Poles still use the method, most modern homes and cafés have upgraded to automated brewers and espresso machines.
The small chain Pozegnanie z Afryka, whose cozy Krakowskie Przedmiescie St. location is filled with antique tin and copper coffee pots, was one of the first to feature an extensive menu of beans and roasts. A number of establishments in Warsaw have followed suit, although artisan roasting has not quite caught on and roasting continues to be done largely in off-site plants.
Still, Warsaw's café culture thrives as a breeding ground for new ideas. Miedzy Nami, for example, not only serves a good cappuccino and a contemporary lunch menu in an attractive loft-like space, but it also publishes a magazine featuring up-and-coming photographers and fashion designers. The spot has become something of a modern version of the nearly 140-year-old Café Blikle, once a gathering place for the cultural intelligentsia of the city. Forced to close during the Communist occupation, Blikle reopened as soon as the Iron Curtain fell and has since been restored to its beautiful pre-war Viennese style.
Milky Way
Never leave Warsaw without sampling traditional Polish fare at one of the city's old milk bars, such as Familijny (which means family) at 39 Nowy Swiat St. These Communist-era family restaurants turn out staples such as pierogi, borscht and kapusta (cabbage cooked with onions, mushrooms and oftentimes meat), and they rarely charge more than $3 for a meal. Milk bars don't serve alcohol, but instead offer patrons a watery fruit juice (kompot) on the house and, of course, milk.
The atmosphere at these eateries is casual and cafeteria-like. Customers line up to order from a huge menu on the wall, then are expected to bus their own dishes. It's easy to imagine the former life of these establishments, as government-subsidized restaurants feeding a population living on rations.
In a city that seems to be in a constant state of evolution, the milk bars provide a glimpse into what life might have been like before Warsaw had designer cocktail lounges and Asian-fusion cafés. With everything there is to do and taste in the Polish capital, you could easily forget that it wasn't always the next hip Eastern European destination.