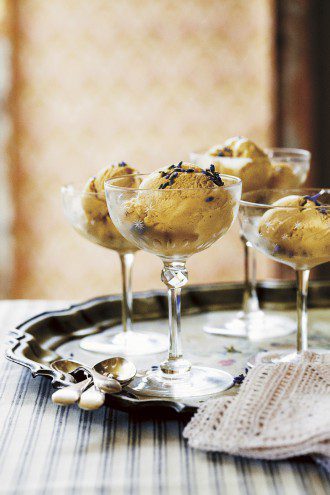 Bergamot-scented Earl Grey tea and dried lavender buds create a sophisticated bouquet of flavor in this Earl Grey and lavender ice cream.
1 Tbsp. chopped fresh lavender leaves
4 Tbsp. Earl Grey tea leaves
8 egg yolks
½ cup superfine sugar
2 cups heavy cream
2 cups milk
Dried lavender flowers, to garnish
In a mixing bowl, whisk the egg yolks and sugar until pale and creamy, set aside.
Enclose the lavender and Earl Grey tea leaves in a piece of cheesecloth and secure with kitchen string, making sure the string is tightly knotted. In a heavy-bottomed saucepan, heat the cream, milk, and the bouquet of lavender and tea leaves up until boiling point, and then remove from the heat.
Temper the egg and sugar mixture by slowly adding the infused cream to bring the egg up to the same temperature, whisking all the time. Strain the mixture and then allow it to cool to room temperature.
Churn in your ice cream maker, according to manufacturer's instructions. (If you don't have an ice cream maker, freeze the mixture in a plastic container for 2 hours. Remove from the freezer, transfer to a blender or food processor and whiz for a minute or two. Pour back into the container.) Freeze for another 2 hours, then serve, sprinkled with lavender flowers.
Serves 4.
Reprinted with permission from Very Fond of Food: A Year in Recipes by Sophie Dahl, copyright © 2011. Published by Ten Speed Press, a division of Random House, Inc.