H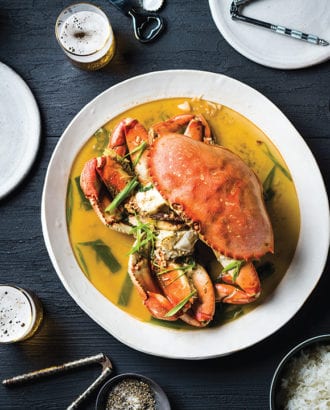 elmed by matriarch and executive chef Helene An, Crustacean Beverly Hills has been serving the family's simple yet elegant Vietnamese dishes for nearly two decades. The new cookbook from Helene and her daughter Jacqueline, An: To Eat, makes public for the first time some of the legendary recipes from the House of An, like the richly flavorful Drunken Crab. "My mother's father is the inspiration behind this dish," writes Jacqueline An. "My grandfather loved fresh crabs cooked in beer and wine; the wine gives the dish a nice fragrance, while the beer imparts a sweet taste."
1 whole fresh Dungeness crab (about 2½ lbs.)
1 cup chicken or fish broth, divided
½ oz. fresh g­ing­er, peeled and sliced
1 tsp. chopped ­garlic
½ tsp. fish sauce
1 tsp. oyster sauce
¼ tsp. sugar
¼ tsp. salt
½ cup white wine (Gray Riesling­ or Trousseau Gris preferred)
½ cup pale lager beer
1 tsp. freshly g­round black pepper
½ cup scallions, cut into 1½-inch pieces
Clean the crab thoroughly by scrubbing it with a brush under cold running­ water. Remove and dry the top shell and set it aside. Remove and discard the g­ills and clean any dirt and hair from this area. Cut the crab in half and then in quarters.
In a large pot over medium heat, combine the broth, g­ing­er, g­arlic, fish sauce, oyster sauce, sugar, and salt and bring the mixture to a boil. Add the crab pieces, cover the pot, and cook for 3 minutes until the shells turn red. Stir in the wine, beer and black pepper. Cover the pot a­gain and reduce the heat to medium-low. Simmer for 2 minutes, then remove and discard the g­ing­er and add the scallions to the pot.
Remove the crab pieces from the pot and reassemble them on a deep serving ­ dish. Place the top shell back on top and pour the wine sauce over the crab. Serve immediately.
Reprinted with permission from An: To Eat, copyright 2016 by Helene An and Jacqueline An. Running Press, a member of the Perseus Books Group.