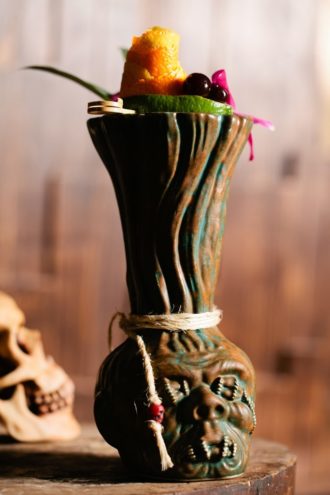 Winter doldrums have you daydreaming of warmer climes? Get a taste of the tropics with the Tall as a Tree and Twice as Shady cocktail from 2014 Imbibe 75er, Paul McGee. The guy formerly behind Chicago's Three Dots and a Dash, McGee has led the charge to revive the Windy City's taste for tiki, and his original cocktails, like this fresh and fruity blended Scotch sipper, ride a wave of modernized tropical drinks.
1 ½ oz. blended Scotch whisky
½ oz. Batavia Arrack
¾ oz. orgeat
¾ oz. fresh lemon juice
1 oz. pineapple juice
Tools: blender
Glass: tiki mug
Garnish: fresh pineapple leaves (optional)
Combine all ingredients in a blender with 1 cup of crushed ice and blend for 5 seconds. Pour into a tiki mug and fill with more crushed ice. Garnish.
Paul McGee, Three Dots and a Dash, Chicago