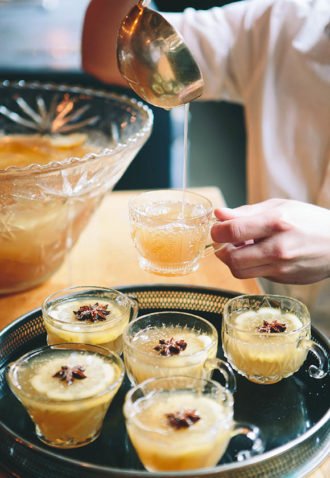 Perfect for the whiskey-loving crowd, this sparkling punch recipe from Drink in Boston has holiday party written all over it.
7 oz. bourbon
1½ oz. Demerara syrup
1½ oz. fresh lemon juice
½ oz. allspice dram
½ oz. Amaro Montenegro
1 bottle Champagne
Peel of 4 lemons
4 oz. white sugar
Tools: punch bowl, ladle
Glass: punch
Garnish: lemon wheels, star anise and grated nutmeg
In your favorite punch bowl, add the lemon peels and muddle with the sugar. Allow to stand until the oils extract from the peels into the sugar. Pour in everything except the Champagne. Stir to dissolve the sugar; then remove the lemon peels. Add large ice cubes and stir until partially diluted. To serve, top the punch with Champagne and garnish with lemon wheels and spices. Makes 6-8 servings.
Ezra Star, Drink, Boston