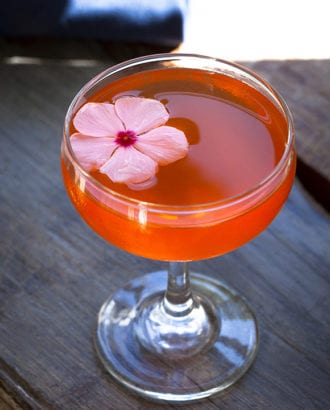 Bittersweet and slightly smoky, this mezcal cocktail originally featured Aperol, but when another bartender snuck in a barspoon of Campari, the combo clicked.
1½ oz. espadín mezcal
½ oz. mango juice
½ oz. fresh lemon juice
½ oz. Aperol
⅛ oz. Campari
1 dash maraschino liqueur
Tools: shaker, strainer
Glass: coupe
Garnish: small, edible bloom and lemon twist
Combine the ingredients in a shaker with ice. Shake well to chill. Double-strain into a chilled glass.
Michael Searles and Patrick Dougherty, Ladybird Grove and Mess Hall, Atlanta