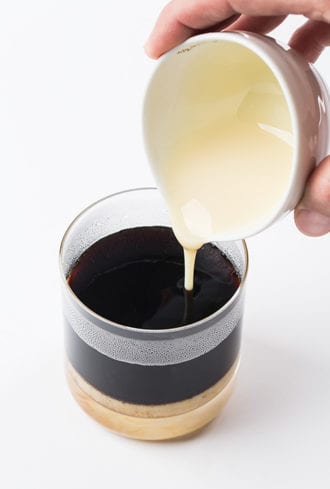 To make this bold-flavored Vietnamese-style coffee, technique is key and patience is paramount. "Vietnamese coffee really shows you a part of Vietnamese culture," says Adam Ho, director of operations at Lúc Lác Vietnamese Kitchen in Portland, Oregon. "It's about taking time and care and getting a quality coffee, versus something super-quick." Mix the coffee with sweetened, condensed milk over ice for the ultimate summer cooler.
⅓ cup medium-coarse ground coffee (preferably Vietnamese roast)
Sweetened condensed milk, to taste
Boiling water
Crushed ice
Tools:
Kettle
8-oz. phin brewer
Measuring cup
Rocks glass
Collins glass (or warm mug for hot coffee)
Measure the ground coffee into an 8-ounce phin brewer. Tap the brewer gently on a tabletop to settle the coffee and release any loose grounds from the bottom of the filter. Place the inside filter on top of the grounds and press down lightly until you feel a gentle crunch. If using a screw press, screw the filter down until just tight, then loosen by one rotation. Place the brewer atop a glass. Add about 1 oz. of boiling water to the brewer and allow the coffee to bloom, about 3 to 5 minutes. Next, add 4 oz. of boiling water and cover brewer with lid. Brewing should take between 8 and 10 minutes, at a rate of about 1 drop per second. When brewing is complete, you should have 2 to 3 oz. of concentrated coffee. Add sweetened condensed milk to taste (Ho uses a 1:1 ratio). Pour the coffee mixture into a Collins glass and fill with crushed ice. (For hot coffee, pour into a heated mug and top with hot water).
---
Did you enjoy this recipe? Sign up for our newsletter and get weekly recipes and articles in your inbox.