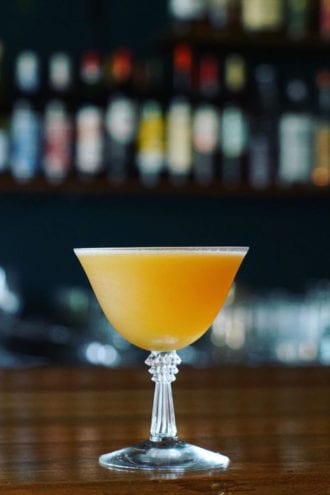 "I like adding bitter notes to any tropical drink," says Blank Slate owner Kierre Van De Veere of the inspiration behind this darkly sweet rhum agricole cocktail. "I used a burnt sugar simple syrup to play with the coffee notes, and falernum to add a deeper, more complex sweetness to the drink."
1½ oz. unaged rhum agricole (Blank Slate uses Rhum J.M.)
1 oz. fresh lime juice
½ oz. velvet falernum
¼ oz. cold-brew coffee
¼ oz. coffee liqueur
¼ oz. burnt sugar simple syrup
Tools: shaker, strainer, fine strainer
Glass: coupe
Garnish: lime wheel
Shake all the ingredients together in a shaker with ice and double strain into a coupe. Garnish.
Burnt Sugar Simple Syrup: Boil 1 cup of white sugar and ½ cup of water over medium high heat stirring constantly, until caramel brown. Remove from the heat, then add ½ cup of warm water carefully, because it will steam and bubble. Stir until combined. Let cool before use. Store in the refrigerator for up to 2 weeks.
Kierre Van De Veere, Blank Slate, Portland, OR
---
Did you enjoy this recipe? Sign up for our newsletter and get weekly recipes and articles in your inbox.