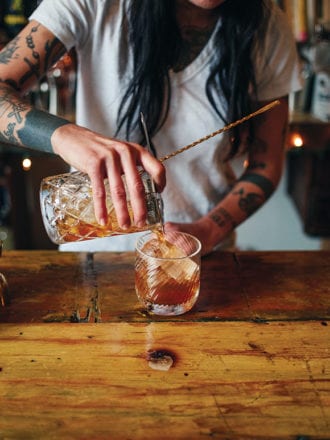 Cedar-infused Canadian rye and maple syrup add an appropriately regional touch to this cocktail from the home bar of Sandy De Almeida in Toronto.
1 oz. cedar-infused Canadian rye whisky
1 oz. Calvados
¼ oz. Fernet-Branca
¼ oz. maple syrup (Grade B)
Tools: barspoon, strainer
Glass: Old Fashioned
Garnish: thin slice of red apple
Stir all of the ingredients with ice, then strain into an ice-filled glass. Garnish.
Cedar-infused Canadian Rye Whisky: In a quart-size jar, combine 1 small handful of cedar barbecue chips with a 750 ml. bottle of Canadian rye whisky (De Almeida recommends Lot 40). Let soak for 4 hours, then strain and bottle the infusion.
Sandy De Almeida, Toronto, Ontario
---
Did you enjoy this recipe? Sign up for our newsletter and get weekly recipes and articles in your inbox.