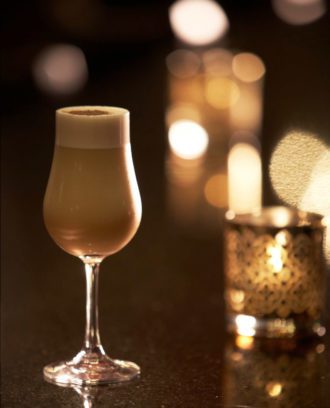 The warm, nutty flavor of brown ale matches the rich and oaky notes of cinnamon and sweet sherry in this fall-ready brandy flip.
1 oz. brown ale
1 oz. cream sherry (such as Lustau Rare Cream)
1 ¾ oz. Spanish brandy
1 barspoon heavy cream
1 fresh whole egg (pasteurized if you like)
¼ oz. cinnamon syrup (see below)
Tools: shaker, strainer
Glass: cordial
Garnish: freshly ground nutmeg
Combine all ingredients and dry shake (no ice) for 20 seconds. Add ice and shake again for 10 seconds. Strain into a chilled glass and garnish.
Clif Travers for Bar Celona, Brooklyn, New York