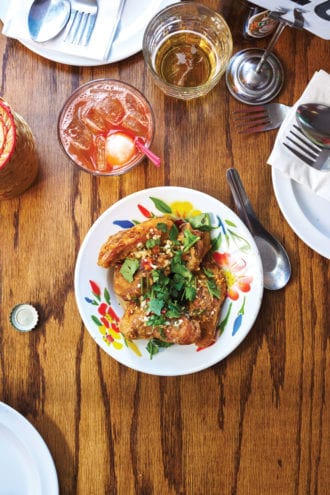 Kris Yenbamroong, owner and chef of the Night + Market restaurants in L.A., is a big proponent of foods that pair well with drinks, something he highlights in his new cookbook, Night + Market. These crispy pig tails have been hailed by the likes of restaurant critic Jonathan Gold, restaurateur David Chang, and Anthony Bourdain. "They weren't based on any Thai recipe," says Yenbamroong. "I saw that this Asian market in Echo Park had pig tails, so I bought some and figured I would turn them into some hard-core drinking food. It's a cut that contains the perfect proportion of skin, fat, tendon and meat. There's nothing better to gnaw on with a cold beer."
2 lbs. pig tails, cut between the joints into 4-inch sections (your butcher may already have them precut)
1 cup kosher salt
½ cup plus 2 Tbsp. sugar
⅓ cup vegetable oil, plus more for deep-frying
¼ large white onion, sliced
1 Tbsp. minced garlic
2 Tbsp. fish sauce
2 Tbsp. distilled white vinegar
1 tsp. ground white pepper
1½ cups tempura flour
½ cup Nam Jim Seafood sauce (below)
Handful of cilantro, chopped
Coat the tails in a mixture of the salt and ½ cup of the sugar and let the mixture cure in the fridge for 30 minutes to 1 hour. Rinse and pat dry.
In a wok or Dutch oven, heat ⅓ cup of the oil over medium-high heat until shimmering. Add the onion and cook until softened and fragrant. Add the garlic and cook until fragrant. Throw in 1 tablespoon of the sugar and the pig tails and toss to coat. Season with the fish sauce, vinegar, and white pepper, then continue to stir-fry until the pig tails begin to turn golden brown, 5 to 6 minutes.
Once the tails are browned on all sides, cover with hot water, bring to a simmer, and cook uncovered until they're soft and on the verge of collapsing, about 1½ hours (adding more hot water as needed to keep the tails submerged, but check after 1 hour). Remove the tails from the wok and let them cool on paper towels to drain off the excess liquid. When cool to the touch, completely pat them dry (this is very important to avoid oil splatter when they're fried).
Meanwhile, discard the contents of the pan and wipe it out. Add a few inches of oil—enough to submerge the tails while keeping a few inches of clearance in the pan—and heat over medium-high heat until the oil reaches 350° F. (Throw in a grain of uncooked rice; if it pops up and starts sizzling right away, the oil is ready. Or use a thermometer.)
Roll the tails in tempura flour until evenly coated. Working in batches, carefully slide them into the oil and fry them until the fatty skin is rendered crispy and golden brown, 3 to 5 minutes, then transfer to paper towels to drain.
Toss the fried tails with nam jim seafood sauce, serving any unabsorbed sauce on the side for dipping. Garnish with cilantro.
Nam Jim seafood sauce
1 cup fish sauce
¼ cup coconut sugar or granulated sugar
6 large garlic cloves, peeled but kept whole
12 fresh bird's eye chiles, or to taste, stemmed
½ cup lime juice
In a saucepan, combine the fish sauce and sugar and heat over medium heat until the sugar is dissolved. Remove from the heat and let cool until just warm. Pour the sauce into a blender, add the garlic and chiles and purée until smooth. Remove from the blender and stir in the lime juice.
Reprinted from Night + Market: Delicious Thai Food to Facilitate Drinking and Fun-Having Amongst Friends. Copyright © 2017 by Kris Yenbamroong. Published by Clarkson Potter/Publishers, an imprint of Penguin Random House, LLC.
---
Did you enjoy this recipe? Sign up for our newsletter and get our favorite drink recipes of the moment in your inbox every month.