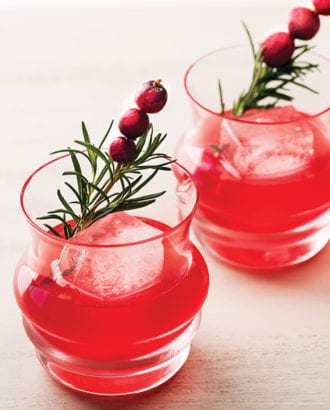 A bowl of cranberries inspired this fresh, seasonal riff on the traditional spirit-forward smash, which picks up a subtle savory note from the addition of fresh rosemary. "The drink screams wintry flavors to me," says Detroit bartender David Kwiatkowski of his cranberry cocktail.
2 oz. cranberry-infused gin
1 barspoon Demerara sugar
¼ of a fresh lemon, diced
1 sprig fresh rosemary
5-6 fresh cranberries
Tools: shaker, muddler, strainer
Glass: rocks
Garnish: 3 fresh cranberries skewered on a rosemary sprig
Combine the rosemary, cranberries, sugar and diced lemon in a shaker and muddle. Add the gin and shake hard with ice cubes. Strain over one large ice cube into a rocks glass and garnish.
Cranberry-Infused Gin: Combine a 750 mL. bottle of dry gin in a quart-sized jar with 1 cup fresh, gently muddled cranberries. Let macerate for 1 week before straining into a clean glass bottle.
David Kwiatkowski, The Sugar House, Detroit
---
Give the gift of Imbibe this holiday season. Gift subscriptions are only $19.95 each after your first $21.95 gift subscription purchase, plus you'll receive a free download of our Holiday Punch Guide, AND through 12/31, $1 of every online subscription order goes to the Red Cross! Click here for details.