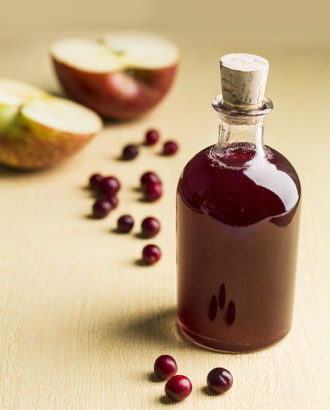 Seasonal fruits merge in this homemade cranberry-apple shrub recipe, which gets even more depth of flavor from cider vinegar. Mix the shrub with seltzer for a full-bodied soda, or spike with vodka or whiskey and a squeeze of lemon juice for a cocktail.
4 oz. peeled, chopped Fuji apples
4 oz. fresh cranberries
1 cup turbinado sugar
½ cup apple-cider vinegar
1 cup water
Tools: muddler or wooden spoon; fine-mesh strainer
Use a muddler or wooden spoon to crush the cranberries. Combine all ingredients in a saucepan over medium heat. Bring to a simmer and let cook for 10 minutes; remove from the heat, cover, and let steep 24 hours at room temperature. Strain through a fine-mesh strainer and bottle for use. Store in refrigerator, and use within two months.
Harlowe, Los Angeles