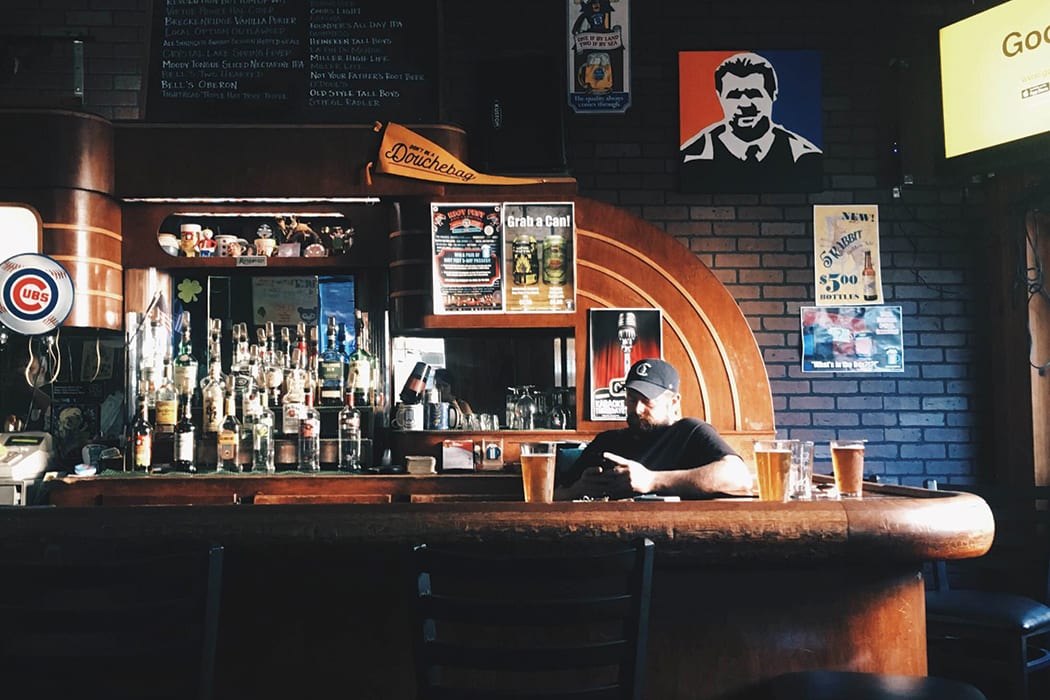 When my family and I first settled into our home in Atlanta, the people next door walked over with a basket of treats from a local gourmet market, told us a little about the various characters in the neighborhood and then politely asked at what nearby congregation we planned to worship. We were a mixed couple, right?
Last year, we relocated our Judeo-Christian selves to the Chicago neighborhood of Bucktown in the northwestern part of the city. Our new condo-mate, Brad, crossed our shared courtyard to introduce himself and got down to a different kind of query. Had we picked out our drinking hole yet? "You should try the Corner Bar," he said, as his Golden Retriever and our yellow Lab got on sniffing terms. "It really is just around the corner. Great people, great prices, and you can bring your dog."
Welcome to Chicago, where choosing a local hangout is serious business. We quickly spotted a good two dozen bars, pubs and taverns throughout Bucktown's tree-lined streets. They occupy corner storefronts amid the residential hodgepodge of A-frame houses, Chicago three-flats, ultramodern new single-family dwellings and janky apartments. This neighborhood gets its eclectic character—solidly middle class, aspirational and scuzzy all at once—from its shifting fortunes, as successive waves of Eastern European immigrants, Puerto Ricans, addicts, gentrifiers and, finally, the marauding Hipster Nation moved in. But even as the street names have changed over the years from Polish heroes to German burghers to English authors, the bars—even as they adjust to new neighbors—remain constant.
Walking a block in any direction from our front door, I can hit three bars. The Charleston is surely the coolest, with its Japanese whisky, pressed-tin ceiling and weekend DJ spinning vinyl. We go now and then. Burke's Web Pub looks like the kind of dank place where old guys played darts until the kids took it over. It's loud, and I've never ventured in.
The Corner Bar gave me pause at first. It has no identifying placard other than the ubiquitous Heileman's Old Style beer sign. The door, which has an air conditioning unit drooping above it, is usually cracked open to reveal a gloomy interior. Typically just a few folks congregate inside, but it picks up on weekend nights and during Blackhawks games. It's one of those bars where the air seems thicker inside, at once inviting and repellent.
After a few months I finally bellied up and thought I had walked into a sitcom scripted to scream "Chicago." A woman was cracking folks up with a story about some bonehead who thought giardiniera (a spicy relish Chicagoans love) was a kind of cheese. One guy ordered a $1.75 PBR and smacked the quarter from his change on the counter for a tip. Behind the bar was a replica "Chicago Typewriter," the submachine gun used by Al Capone. e only displayed liquor bottle that seemed to get any action was the Jeppson's Malört, the beloved-by-locals spirit that tastes like Campho-Phenique aged in creosote. (When newbies try their first shot, the bartender snaps a picture.)
One evening soon thereafter, Brad called me in as I was walking by with my Lab, who was happy to find Brad's dog inside. "There are some treats in the back," he said, buying me a PBR and introducing me around. He knew a lot about the history of the bar. It dates to the 1930s when it used to be a confectionary. The classic Art Deco back bar had a twin at a nearby tavern. Soon there was a third dog, a little white Bull Terrier who "used to want to kill other dogs but is now better socialized," according to her owner who, to be safe, kept her leashed.
During my first winter in Bucktown, as the weather went from cold, to colder, to an atmospheric condition I can only describe as "holy shitballs," it all began to make sense. Chicagoans need their corner bars to force them to leave their houses at night, and same goes for their dogs. How lucky to be able to combine the two.