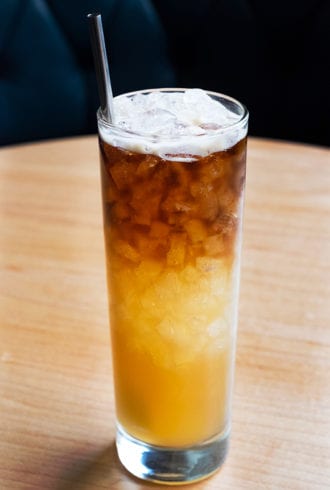 Named for its contrast of light and dark colors, the Corn 'n Oil cocktail can be made in a number of ways, depending on who you ask. At Standby in Detroit, bartender Joe Robinson experimented with a few preparation methods before landing on an incredibly refreshing version that's shaken and served over crushed ice.
"A quick Google search will reveal that most historical recipes suggest a stirred drink, but shaking allows air to get into the cocktail and helps incorporate the ingredients thoroughly and brighten the citrus," says Robinson. "Then we add bitters on top of the ice as homage to the original."
1 oz. dark rum (Standby uses Plantation)
1½ oz. falernum
¾ oz. fresh lime juice
1 dash Angostura bitters
1 oz. black strap rum
Tools: shaker, strainer
Glass: Collins
Combine the dark rum, falernum and lime in a shaker tin with ice. Shake until chilled and strain into a Collins glass. Add crushed ice, then float the black strap and bitters over the top of the drink. Stir to combine before drinking.
Joe Robinson, Standby, Detroit