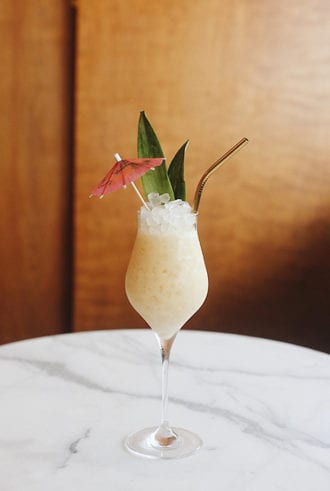 Experimenting with rum styles is one of the easiest ways to bring new life to the classic Piña Colada, and at Confleur in Paducah, Kentucky, the staff chose a Barbados rum with hints of natural banana flavor and a spiced rum for a nice contrast of sweetness and spice.
1½ oz. Bumbu Rum (Diplomatico Reserva Exclusiva or Plantation Xaymaca would also work)
½ oz. spiced rum
½ oz. fresh lime juice
¾ oz. coconut cream
1½ oz. pineapple juice
Tools: shaker, strainer
Glass: hurricane
Garnish: pineapple leaf
Combine all the ingredients in an ice-filled cocktail shaker and shake to chill. Strain into a hurricane glass filled with pebble ice, then garnish with pineapple leaf.
Matt Johnston, Confleur, Paducah, Kentucky
---
Did you enjoy this recipe? Sign up for our newsletter and get weekly recipes and articles in your inbox.