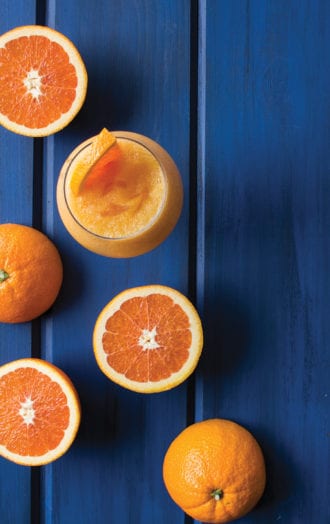 Longtime disciples of the classic cocktail recipes by Trader Vic, former Los Angeles bartenders Allan Katz and Danielle Crouch updated the classic Eastern Sour by swapping fresh Cara Cara oranges for the standard OJ and tossing everything in the blender. A splash of bitters atop the ice lends a bit of spice to this drink, named for college station KCRW in Santa Monica.
2 oz. bourbon
¾ oz. orgeat
¾ oz. fresh lemon juice
4 cara cara orange supremes (orange sections with the outer membrane removed)
Glass: footed beer glass
tools: blender
Garnish: dash Angostura bitters, orange moon
Combine the ingredients in a blender and add 16 oz. of crushed ice. blend to combine (about 10 seconds on low speed), then pour into a glass; dash bitters on top of the drink and garnish.
Allan Katz & Danielle Crouch, Here's Looking at You, Los Angeles
---
Did you enjoy this recipe? Sign up for our newsletter and get our favorite drink recipes of the moment in your inbox every month.