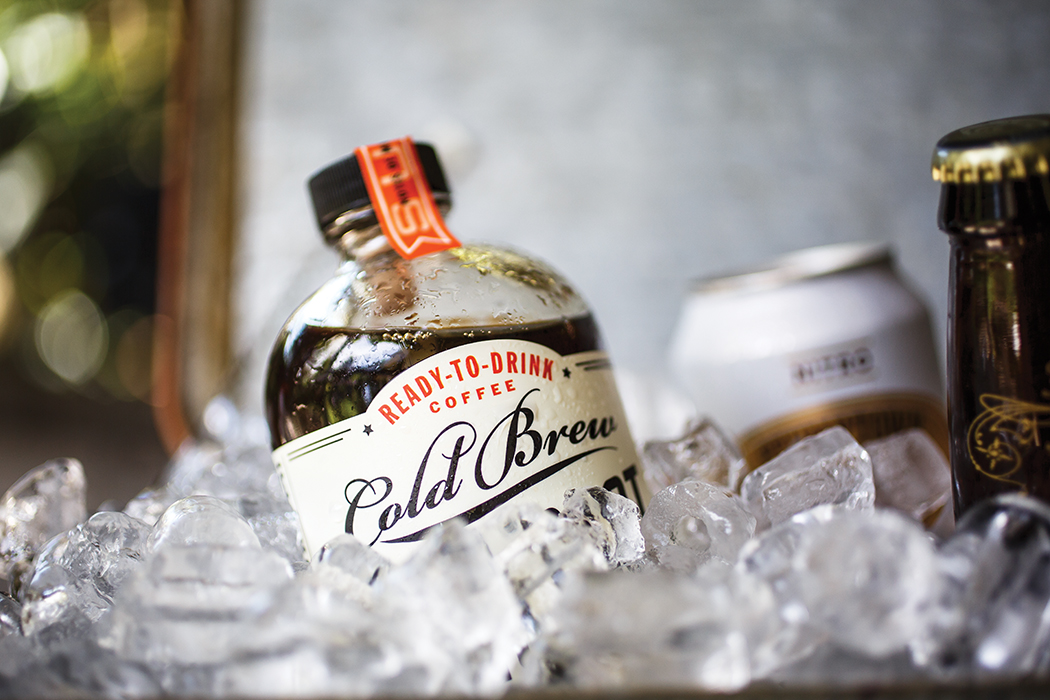 James Freeman can remember when the cold-brew program for his company—Blue Bottle Coffee, which sells its cold brew in refrigerated cartons that are distributed nationwide—was just cups of iced coffee at a farmers' market in Oakland. "It's funny, the vicissitudes of fashion," Freeman says of cold brew's hot-and-cold popularity. "The pendulum swings one way, then swings another."
Freeman recalls tinkering with recipes in the early 2000s, cold-steeping coffee and adding chicory and ice in an experiment that would evolve into Blue Bottle's famously cute cartons of New Orleans–style iced coffee, which are sort of the iPad Mini of cold-brew products. Blue Bottle also serves various forms of cold brew in their cafés in the U.S. and Japan, from single-origin cold brew prepared in a Filtron and served black, to the slow-drip Oji cold brew to Blue Bottle's signature New Orleans–style chicory-laced cold brew blended with milk and sugar.
While they've been a trailblazer, Blue Bottle has certainly not been alone in fueling the cold-brew craze. In March 2011, Portland, Oregon-based Stumptown Coffee Roasters launched their now- iconic cold-brew stubbies, which are sold at Whole Foods Markets in 42 states, along with an expanding line of cold-brew options. "One thing led to another," says Diane Aylsworth, Stumptown's director of cold brew."The cafés had been making their own cold brew every night, which is kind of a pain, and Duane [Sorensen, Stumptown founder] said, 'Why don't we bottle it so the baristas aren't doing all the work.' "
Before long, somebody pointed out that the downtown Portland café had beer taps that were no longer in use, and cold brew was the obvious replacement; today, their draft cold-brew options at cafés in Portland, Los Angeles, Seattle and New York City include a standard cold brew, as well as a single-origin cold brew and a nitrogen-charged "nitro" draft that pours like a pillow-topped Guinness.
And stubbies were just the start of the company's packaged cold brews. "We were watching folks buy a stubby, pour it over ice, and add milk and sugar,"Aylsworth says."So we thought we'd take some of the work out of it." By the end of 2013, Stumptown introduced cartons of cold brew mixed with milk and sugar; a cocoa-enhanced cold brew soon followed, along with a seasonal Winter Cheer cold brew flavored with mulling spices. And this spring, Stumptown upped the ante with nitro-charged cold brew in cans.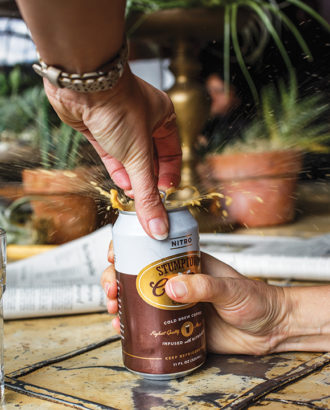 While Stumptown and Blue Bottle are quickly filling refrigerator shelves from coast to coast, smaller roasters have been satisfying the growing craving for cold brew on a smaller scale. Manhattan-based Birch Coffee has built much of its business around cold brew.
"Our cold-brew sales almost triple [in the summer] from what they are in the winter," says Jeremy Lyman, co-owner of Birch. "With four stores we are going through about three bathtubs worth of cold brew in the café per day." Birch has become known locally for its takeaway and delivery growlers of the stuff. "When we have 'em in the refrigerators out front, they just fly out of the stores," says Lyman.
Down the coast in Raleigh, North Carolina, Slingshot Coffee Co. started as a one-woman operation at the hands of Jenny Bonchak, who was trying—as have many—to fill a need for a quality cold brew that didn't fall flat.
"I'd been doing this at home for years and years, and I was never able to find anything [commercially] that was really satisfying," Bonchak says. "I felt that things were falling short not only in a bottle, but sometimes at the café level, too."
What started as a moonlighting gig for Bonchak soon became her full-time pursuit, and Slingshot now sells ready-to-drink cold brew and cold-brew concentrate in 13 states, with a small amount of cold- brew cascara tea (made from the husks of coffee cherries) also avail- able. Bonchak sources the coffee for her cold brew from nearby roaster Counter Culture. "We have all of our coffees roasted to order, and we brew to order,"she says."We don't have bottles just sitting around our brewery waiting to fill orders. To a lot of people, that model seems crazy," she says, "but for Slingshot, it's all about the coffee—constant quality control, developing our palates and making sure Slingshot stands out for those reasons."
Grady's, Joyride, Cuvee, La Colombe, Roasting Plant, Secret Squirrel, Gorilla, Chameleon—a seemingly endless stream of entrepreneurs like those behind Birch and Slingshot are building cold-brew businesses across the country. And it's not just smaller businesses that are tap- ping into cold brew; this year, Starbucks entered the cold-brew game, marking a major milestone for the once-esoteric style of coffee.
One of the most unique approaches is from Coffer out of Austin, Texas. Kevin Chen was a product engineer and self-described coffee hobbyist in Houston when the cold-brew bug bit. "My brother gave me a Toddy system, and I came to really enjoy cold brew—especially during a hot Texas summer," Chen says. In 2013, after playing around with a home-carbonation kit, Chen decided to sort out a process for carbonating cold brew while maintaining its delicate flavor. By the end of the year, he'd hit upon a solution,
and he moved to Austin to launch Coffer Coffee.
Coffer's bottled cold brew is a different sort of fizzy coffee from what you'll find in most cans and cafés. "We use natural carbonation, similar to the way kombucha is made," Chen says, relying on the age-old combination of yeast, sugar and time to create a gentle, velvety fizz in Coffer's cold brew. "That's what gives the coffee a silky mouthfeel, along with an effervescent carbonation."
Coffer introduced its cold brew in 2014, and the business is still in its early stages. The coffee is sourced from Tweed Coffee Roasters in Dallas (which operates Houndstooth Coffee cafés in Austin), and currently Coffer's well-designed bottles are only distributed in Austin. Chen says there are plans to expand, and that he sees plenty of potential as the taste for cold brew continues to spread.
"We love seeing cold brew take off," he says. "When people experience a coffee that's been brewed cold, they really see the difference in flavor."
KEEPING THE CRAFT IN COLD BREW
Cold coffee in North America used to mean a can of something slightly obscure picked up at the international grocery store, or a mass-market bottle packed with stabilizers and artificial ingredients. So as this cold- brew revolution evolves, how do the products stay true to their quality-driven roots? Aylsworth and Freeman say there's a big difference between yesterday's highly processed product and their own packaged cold brews—a difference underscored by the integrity of ingredients, and by keeping the product on the shelf as close as possible to the coffee being poured in the cafés. "It is a mass-market product," Freeman says of Blue Bottle's New Orleans Iced Coffee. "But we don't have carrageenan or stabilizers in our little cartons. We've got the same four ingredients that we serve in our shops,"he says: coffee, chicory, sugar and milk, all certified organic. "I want a barista to be proud of everything we have. I couldn't ask them to do that if we had all kinds of stuff that we didn't want in the carton."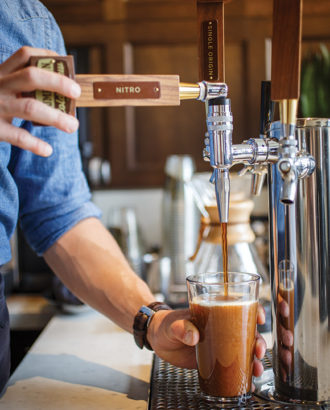 Still, once the bottles, cartons and kegs leave a café or warehouse, how do producers maintain quality until their product is in the hands of drinkers? To start, many producers ensure a chilled distribution system, either delivering the product themselves or utilizing refrigerated trucks to maintain the cold brew's quality. And Aylsworth says cold brew even offers a better opportunity to make sure a coffee is up to par at the time it hits a customer's cup. "With cold brew, we actually have more control over the coffee," she says. "We're not only sourcing and roasting the coffee, but brewing it for them—we can ensure a high-quality, consistent product in a way that we can't with whole bean. They know that every time they pick up a bottle, it'll be the high-quality coffee they're expecting."
Aylsworth adds that nationally available cold brews from quality-driven roasters also offer promise as an entry point to the world of specialty coffee. As Stumptown's ready-to-drink category has expanded, Aylsworth says the company has found a national customer base—particularly in the vast area between the coasts—that sometimes doesn't even know the company roasts coffee. Reaching people through the grocery aisle has opened up a whole new audience, and conversation."It's a gateway to tasting quality coffee,"Aylsworth says. "They're getting to it through a cold-brew perspective, and hopefully that's piquing their interest so they'll ask, 'What else do these folks make?'
This article originally appeared in the July/August 2015 issue. Paul Clarke provided additional reporting for the story.