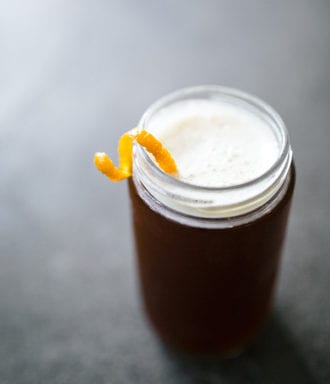 An autumnal citrus and spice syrup meets fresh apple cider in this sublimely seasonal cold-brew coffee drink from Horizon Line in Des Moines, Iowa.
1 oz. spiced citrus syrup
2½ oz. apple cider
8½ oz. cold-brew coffee
Tools: shaker, strainer
Glass: mason jar
Garnish: orange peel
Shake all of the ingredients with ice and strain into a chilled glass with no ice. Topped with an orange peel.
Spiced Citrus Syrup
1½ cups orange juice
2½ cups water
2 cups brown sugar
3 grams whole clove
3 cinnamon sticks
2 grams nutmeg
5 grams cinnamon
Half of an orange, juiced & sliced
Boil ingredients together for 10 minutes and strain. Store syrup in the refrigerator when not in use.
Kenzie Wyatt, Horizon Line, Des Moines
---
Did you enjoy this recipe? Sign up for our newsletter and get weekly recipes and articles in your inbox.