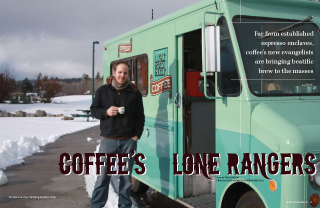 Slinging espresso may seem like an odd first step toward a promising career path, but that's what it became for Jon Ferguson. Back in 2005, Ferguson, a Nebraska native, was working the counter at Seattle's Zoka Coffee, where he got his first taste of some of the world's finest coffees. He was hooked. "It was like a light turned on," he says. "I wanted to learn all there was to know about coffee."
Especially drawn to the craft of roasting, Ferguson wanted to make the leap from serving coffee, but roasting gigs can be tough to find, even in Seattle. After a quick apprenticeship in San Francisco, he returned to his hometown of Lincoln, Neb., with ambitions to set up his own shop. Being a college town, Lincoln has its share of cafés, and opening a new shop is always risky, but like a growing number of those lucky enough to have experienced truly great coffee, Ferguson felt compelled to spread the new coffee gospel to a place where a great cup had been in short supply.
Ferguson's Cultiva Coffee, which opened last year, might appear from the outside much like any other independent coffee shop, but the trained eye can spot some telltale signs of a deeper commitment. Take the La Marzocco espresso machine on the bar. Every espresso shot is ground to order and intricate rosette patterns don each latte. There's also the immaculately maintained small-batch coffee roaster, with Ferguson parked beside it on most days, diligently charting the progress of every roast. And amid large burlap bags of predominately organic and fair-trade coffees is a Cup of Excellence logo, indicating that the beans were purchased from an innovative auction system that rewards farmers for outstanding quality. Pop in at the right time of day and you might even be invited to join Ferguson and his crew at the counter for a cupping, to dip a spoon into fresh samples of the previous day's roasts.
Despite creating an increasingly popular coffee oasis, customers occasionally stop by asking for flavored coffees or other preferences inherited from other local shops. But Ferguson stays true to his ideals of quality, knowing that his customers will eventually catch on. "At a certain point you just have to do what feels right and inspire others to participate. I'm still amazed by how many people come into the shop and say they heard we have the best coffee in town," he says. "I'm humbled by it."
The Little Kiosk That Could
Blogger and espresso enthusiast Ben Szobody was bemoaning the state of coffee in his hometown of Greenville, S.C., when he received a blog comment that threw him for a loop. It was an invitation from Shannon Hudgens, owner of a kiosk at the Haywood Mall that Szobody had dismissed a couple years earlier under its previous owner. "I think I laughed out loud," Szobody says. Still, he visited the coffee stand, and his first shot of espresso was "flabbergastingly good." Despite the unlikely location, Szobody became a convert. "I still have trouble keeping a straight face when I tell people where it is—next to the Belk's perfume counter."
Granted, it's not where Hudgens thought he'd wind up. "Not many kids grow up saying they want to be a barista or own a coffee shop," he says. "I wanted to be an astronaut like every other kid. Life just sort of hands you opportunities, and mine came in the form of a run-down espresso bar in a mall in Greenville. It was on the verge of being torn down and thrown away, and I thought I could save it." Occupying a small patch of 250 square feet outside a department store with a handful of tables and chairs, the unassuming kiosk didn't seem like too difficult an undertaking. But upon opening Coffee & Crema, he embarked on an unexpectedly steep learning curve. "Making great coffee is hard," he says. "Even making good coffee is a challenge."
At first, he did what many coffee shops in his area were doing. "I bought cheap coffee and poured any one of 23 flavors into it," he admits. "I sold cheap, prepackaged pastries and cakes. I sold flavored coffee. None of it tasted very good."
But gradually Hudgens' mindset changed. He attended a few industry events and was drawn to some of the emerging ideas about specialty coffee. "If this shop was to be my legacy, then I wanted it to be meaningful." he says. He began immersing himself in coffee culture, gleaning information from Web sites, books, podcasts and online forums. He upgraded much of his equipment, installing a classic Faema E61 espresso machine. "Then we went with the best roaster we could find—Terroir in Acton, Mass., and let their coffees train our palates. They were really instrumental in helping us get a grip on how good coffee can be." Hudgens studied up and taught himself proper espresso-making techniques, And last year, he even placed in the finals in a regional barista competition as an underdog amid seasoned competitors. "Training for that improved every aspect of how I worked the bar," he says. "I got faster, became more confident and made a better drink."
Focusing on quality won him many new devotees, but it may also have been his saving grace. When a big coffee chain store opened upstairs, it had little impact on sales. In many cases, Hudgens notes, the contrast has been good for his reputation, as more customers routinely acknowledge how much better his coffee tastes to them. According to Szobody, you'd have to drive to Atlanta or Charleston, S.C., to find coffee as good as Hudgen's, making Coffee & Crema a unique destination for serious coffee enthusiasts. "Everyone knows we're passionate about coffee, and that counts for a lot," Hudgens says. "We'll just keep making the best drinks we can until the day people start expecting coffee the way we prepare it instead of how other places do it."
Steering Folks Towards Espresso
In the lakefront vacation town of Coeur d'Alene, Idaho, Jon Lewis might have an even stranger setting than a mall kiosk for his coffee destination—depending on where he's decided to park.
Among barista pros, few enjoy as much respect and admiration as Lewis. A frequent finalist in the national barista competition scene, he has made a name for himself as a skilled and eloquent competitor. Yet while most top-level baristas hold court at famed espresso bars in cities known for their coffee, Lewis has never felt that need. "I want to make coffee for a living," he says, "but I don't want my life to be reduced to an equation of 'I need to sell x number of cups in order to pay the bills.' I want to serve people and help foster a robust local community that cares about the way we relate to the rest of the world."
Two years ago Lewis and a friend opened a small roasting company, Bumper Crop Coffee, in a barn in nearby Newman Lake, Wash., and Lewis and his wife started selling beans at Idaho's Kootenai County Farmers Market. "We always saw the farmers market as the venue where we felt most comfortable and engaged as consumers, so we jumped at the chance to participate as producers."
They started with a propane stove and a simple Chemex pour-over coffeemaker, serving samples of fresh roasts and chatting up neighbors and passersby. But Lewis longed to bring espresso into the mix. After a failed attempt to convert a retro Airstream trailer into a mobile coffee station, he came across a classified ad for a '79 Ford step van outfitted with water and power. Long Story Short Coffee was born. "The truck gives me a stage, a platform, a diorama for coffee service," he says. "It's a way to flesh out some type of American dream without incurring a typical American debt."
Lewis' unique mobility, has allowed him to move his show beyond the farmers market, hitting concerts and other events where quality espresso might be welcomed, even visiting local businesses to fuel workers' coffee breaks. "I'm trying to offer not just a convenience, but an unexpected blessing for coffee lovers," he says. With his topnotch beans, preparation and service, Lewis continues to challenge himself and his espresso-enthusiast customers while still appealing to the area's less-experienced coffee drinkers. "[My customers'] experiences and expectations of coffee couldn't be more varied," he says. "I serve old-timers and young families, Starbucks devotees and self-proclaimed coffee snobs."
For Lewis, success in a small town hinges on finding a business model that puts less pressure on the bottom line and more on steering people toward quality coffee. "I think a fundamental difference, at least in my mind, is that I regard coffee as a gift, versus a commodity. I don't want to make money selling coffee, I want to make a living by making coffee."
Story by Tony Konecny