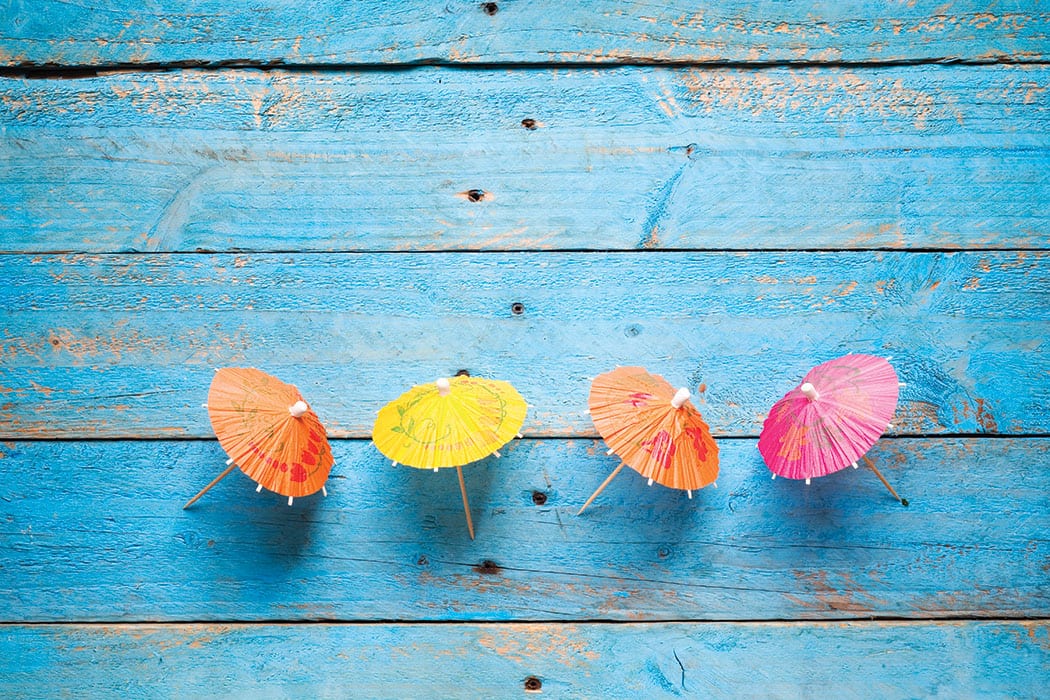 Here's something interesting I learned from Google: Those little cocktail umbrellas that were suddenly ubiquitous atop exotic drinks about a half-century ago were designed to keep sun off the ice! They were apparently vital in preventing premature melting as one was engaged in languorous sipping under a summer sun.
Of course, this sunshade origin myth makes little sense, given that cocktail umbrellas are pop-culture mushrooms: They arose in damp, grotto-like tiki bars with no windows and, hence, with no sun to melt ice. So this leaves the question: Whence did cocktail umbrellas arise? And why?
A more credible genesis myth is that the first umbrella found its way into drinks in 1959 thanks to Harry Yee, head barman at the Hawaiian Village Hotel on Waikiki Beach. The claim appears in an interview in 1998 (Yee was then 78 years old), when he told Hawaii-based journalist Rick Carroll that he placed the first umbrella into a now-forgotten drink called the Tapa Punch. The little paper parasols blossomed from that one drink and soon rose to tiki ubiquity.
It turns out the parasol was actually just one of Yee's cocktail innovations during a vastly prolific period—he also is cited as the first to use an orchid as a cocktail garnish in 1955 and to have invented the Blue Hawaii and the Tropical Itch in 1957. (The Itch would become camp-iconic thanks to the backscratcher swizzle stick Yee used.) In tiki culture, Yee's 1955 to 1960 phase was comparable to Leonardo da Vinci's Milan period, 1482 to 1499.
But should we take Yee at his word? A little more scratching yields some reasons for skepticism. For starters, consider the Hawaiian Village. It sounds quaint and idyllic—can you hear the ukuleles and smell the grilled wahoo? It seems like just the sort of place where a creative genius could flourish.
Yet the Hawaiian Village Hotel was actually a massive resort development created by mainland industrialist Henry J. Kaiser. When it opened in 1955 it featured hundreds of rooms and villas, and thatch-roofed bars and a lagoon, and would soon be studded with hotel towers. "Mr. Kaiser says he missed out on the resort booms in Florida and Nevada," one reporter noted in 1957, "and he is not going to make that mistake here." Hawaiian Village is often credited (or blamed) for offering the push that pivoted traditional, thatched-hut Hawaii into modern-day, mass-tourism Hawaii. Kaiser sold the place in 1961 to Conrad Hilton, who renamed it the Hilton Hawaiian Village. Today it's one of the largest hotels outside Las Vegas, with nearly 3,000 rooms and 18 restaurants.
So, of course, Yee got a lot of attention for his drinks—he was at the center of an attention-getting complex, constantly visited by travel writers and proto-influencers. He was celebrity enough that when he retired from his 30-year career as head barman, he told Carroll he'd likely made "more than one million Mai Tais."
So was Yee the inventor of the umbrella drink, or just the popularizer? Well, he certainly didn't invent the umbrella itself. The little paper parasols had been around for decades by the time Yee topped a drink with one. In the late 19th century, Americans were afflicted with a fascination for all things Asian-exotic, thanks in part to the Chinese village at the World's Columbian Exposition held in 1893 in Chicago. Paper fans, paper lanterns and paper parasols were all imported as popular novelties.
In fact, in 1896, little paper parasols made a cameo in a court case—United States vs. China & Japan Trading Co. Debate arose over import duties: whether they should incur the same duties as actual umbrellas, or as higher-taxed paper and wood products. "They are called 'umbrellas' for convenience, but they are not used or designed for use as such," read the court decision. "They might as appropriately be called 'rainbows.' " The court record noted in passing that the little umbrellas were "used by women for hairpins."
Then maybe Yee was the first to put one in a drink? Even that seems unlikely. Four years before Yee's reputed innovation, a House Beautiful blurb enthused about "pretty paper parasols" useful for "garnishing salads, for children's parties, floral arrangements" along with one other use: "for decorating drinks." Also in 1959, in Portland, Oregon, restaurateur Stephen Crane was photographed with a drink of towering garnishes capped by an umbrella, called the Laopunui Laopounui—a "rum-based, fresh fruit-filled and parasol-topped concoction."
As with so much in drinking culture, how and where something arose is often less important than where it ends up. Whoever started it, the tiny paper parasol atop a drink swiftly became a symbol of drinking-as-leisure, a handheld diorama of ease and inactivity. It didn't matter if you sipped an umbrella drink in your neighbor's musty rumpus room—in your mind, you were on a distant island bothered only by the rustle of palm fronds overhead. It was parasol-as-mandala, an emblem of an advanced form of midcentury meditation.
Any businessperson can sit back with an austere Manhattan and celebrate a deal. But it's the beachcomber on permanent vacation who sips the endless umbrella drink, with sand between toes, sun sinking into the sea, and crushed ice that never melts.
---
Like what you see? Get more of the best of liquid culture when you sign up for our bi-monthly magazine. Subscribe now and save up to 59%—it's just $21.95 for one year or $32.95 for two years. Click here for details.