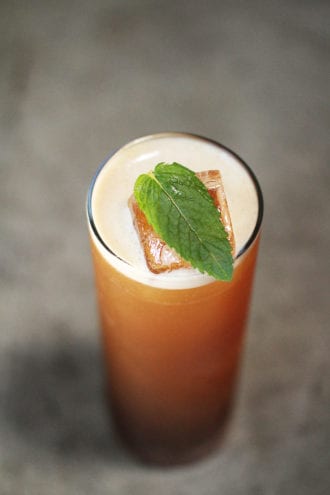 Aiming to create a hybrid of the classic Cuba Libre and Mojito, Clavel bartender Jesse Hutchinson uses a blast of cooling Branca Menta for the mint, Mexican rum for the spirit, and ginger for an extra layer of spice. "I wanted a super-refreshing cocktail that would get people through the hot and humid summer days that Maryland is known for," he says. "Branca Menta has a blast of cooling mintiness, but it also has a sweetness that reminds me a lot of Andes chocolate mints. Ginger juice turned out to have the perfect amount of zestiness without making the drink spicy."
1¾ oz. charanda
1 oz. fresh lime juice
¾ oz. Fernet Branca Menta
½ oz. panela syrup
¼ oz. ginger juice
Mexican coke, to top
Tools: shaker, strainer
Glass: collins
Garnish: mint sprig
Combine all of the ingredients (except the cola) in a shaker with ice. Shake to chill, then strain into a Collins glass over fresh ice. Top with cola and garnish.
Panela Syrup: Combine 1 part panela (a type of Mexican sugar that can be found in local markets or online; Clavel uses Nela) with 1 part water. Bring the mixture to a boil, reduce the heat, and simmer until the sugar dissolves. Remove from the heat, let cool, then bottle and store in the refrigerator for up to 2 weeks.
Jesse Hutchinson, Clavel, Baltimore
---
Did you enjoy this recipe? Sign up for our newsletter and get weekly recipes and articles in your inbox.