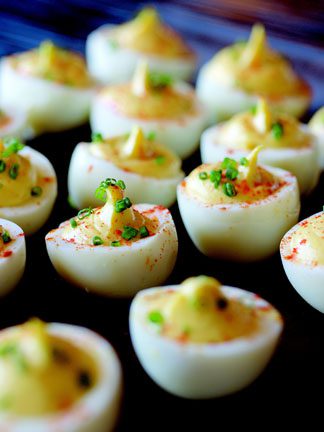 We have a soft spot for deviled eggs, and we're betting this version from James Beard award-winning chef, Michael Schwartz, will win you over too.
1 dozen large eggs
¼ cup quality store-bought mayo
1 Tbsp. Dijon mustard
Juice of ½ lemon
2 dashes hot sauce
1 tsp. sweet smoked paprika
½ tsp. kosher salt
¼ tsp. freshly ground black pepper
¼ bunch fresh chives, minced
Put the eggs in a large wide pot, cover with 1 inch of cold water, and set over medium-high heat. Starting with cold water and gently bringing the eggs to a boil will help keep them from cracking. Once the water boils, turn off the heat, cover the pot and let the eggs sit in the hot water for 15 minutes.
In the meantime, prepare an ice bath by filling a large bowl halfway with water and adding a tray of ice cubes. The key here is to cool the eggs quickly, which helps prevent discoloration around the yolk and it makes them easy to peel.
Using a strainer or slotted spoon, transfer the eggs to the ice bath. Allow them to sit in the water for 5 minutes so they are completely cooled down to the center.
Give each egg a few gently taps on the kitchen counter; you want to crack the shell without damaging the white underneath. Gently roll the egg around until the shell has small cracks all over it. Peel it off.
Using a paring knife, carefully trim off the ends of the eggs so they will stand upright when serving. Half the eggs crosswise (not lengthwise like you're used to seeing) and pop the yolks into a food processor. Add the mayonnaise, mustard, lemon juice, hot sauce, half the paprika, the salt and pepper. Purée until smooth.
Spoon the yolk filling into a pastry bag or a plastic bag with the corner snipped and pipe into the hollowed egg whites. Garnish the eggs with a sprinkle of the remaining paprika and the chives. Serve immediately or refrigerate, covered loosely for up to 1 day.
Adapted from Michael's Genuine Food: Down-to-Earth Cooking for People Who Love to Eat (Clarkson Potter, 2010) by Michael Schwartz and JoAnn Cianciulli