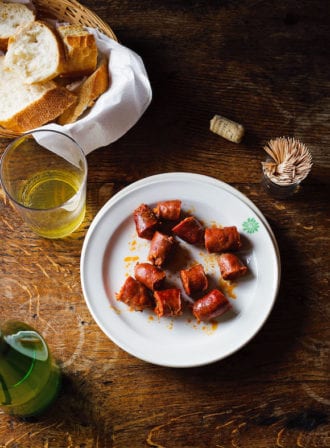 Last fall, Alabama-born Marti Buckley compiled her culinary adventures abroad in San Sebastián, Spain into the artful tome, Basque Country. Said to have originated in rural cider houses while tasting the year's vintage, txorizoa sagardotan, or cider-braider chorizo, was among the pintxos served to stave off the alcohol. Here, the region's sour cider, an emerging cocktail go-to in the states, is used to simmer cured Spanish chorizo which is then served alongside crusty bread, offering plated warmth to share among friends.
1 link (250 g) Spanish/Basque chorizo
2 cups Basque cider
1 crusty baguette, sliced into 1-inch pieces
Cut the twine from the end of the chorizo and slice the link crosswise into 2-inch-thick pieces.
Put the chorizo in a medium saucepan, add the cider, and bring to a boil over high heat. Boil for 5 minutes. Lower the heat to maintain a lively simmer and cook until the liquid has reduced and the chorizo is nearly tender, 20 to 25 minutes, depending on the chorizo's freshness.
Test for doneness by pricking with a knife; it should slide in without much resistance. Use a slotted spoon to transfer the chorizo to a plate or platter. Serve with baguette slices and some toothpicks.
Tip: Be sure to use Spanish-style chorizo, not Mexican. The difference is important—the Spanish stuff is cured, unlike fresh, crumbly Mexican chorizo. It's ready to slice and eat.
Serves 4.
Excerpted with permission from Basque Country: A Culinary Journey Through a Food Lover's Paradise by Marti Buckley (Artisan Books). Copyright © 2018. Photographs by Simon Bajada.
---
Did you enjoy this recipe? Sign up for our newsletter and get our favorite drink recipes of the moment in your inbox every month.