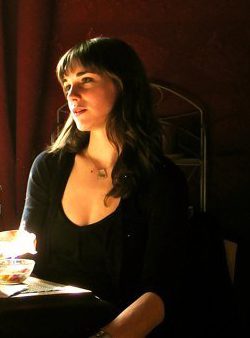 With so many personalities sure to be buzzing around your holiday table this year, how do you know which wines will best keep everyone happy? In our November/December 2011 issue, Robert Simonson profiles wine wunderkind Christina Turley, who this past fall left her high-profile wine gig with David Chang's NYC-based restaurant empire to return to her family's Napa wine roots. And with a character as interesting as her tastes, we thought no one better to tap for some wine picks and tips to keep everyone around the holiday table in high spirits.
For the Lightweight
Christina's tip: "Kabinett or spätlese Riesling from Germany—these wines are generally 8%-11% ABV and very versatile."
For Beer Drinkers
Christina's tip: "Depends on what kind of beer! For the lighter styles, try Txakoli—a lightly sparkling, slightly saline wine from the Basque region of Spain. For the more full-bodied beer drinker, I'd taste them on a Gutturnio from Colli Piacentini in Italy. Again lightly sparkling, but this time a dry red wine—full-bodied, earthy, yet high in acid and refreshing."
For Those Who Like a Heavy Pour (of Anything)
Christina's tip: "A well-balanced high-alcohol wine (I prefer to call them 'efficient'), such as Amarone, Châteauneuf-du-Pape and, of course, a Turley Zin! Also come talk to me, we will probably be friends."
For Wine Snobs
Christina's tip: "You can't go wrong with grower Champagne. I'd do something like Le Nombre d'Or Campanae Veteres Vites from L. Aubry. In addition to the normal Champagne varietals of Chardonnay, Pinot Noir and Pinot Meunier, this wine has some of the arcane varietals (Arbanne, Petit Meslier, Fromenteau) that were grandfathered into the region."
For Wine Newbies
Christina's tip: "Crljenak Kašteljanski from Croatia. Hárslevelű from Hungary if they want a white—something simple."
For the Grinch
Christina's tip: "Sparkling rosé Bugey-Cerdon, usually a combination of Gamay and Poulsard. It's impossible not to be happy with this wine—it's the equivalent of drinking a little girl's birthday party."
For the Aunt Who Only Drinks White Zin
Christina's tip: "Let her keep her white Zin. She likes it, and she's a dying breed. The world needs people like this as much as they need snarky people like me recommending high-consonant-content varietals to beginners."
Any go-to grapes or regions to look to for keeping everyone happy around the holiday table?
This is tricky in my family—I like the weird funky whites, my dad likes big-bottomed reds and my stepmother likes old Burgundy. One wine we can all get behind is the white wine from Turley; my favorite was a Roussanne from Howell Mountain we made one year. It was so good we didn't bother labeling it and kept all of it for ourselves.
What should people keep in mind when it comes to pairing wines with all the traditional holiday fixings?
You're generally eating a variety of things, so having a variety of wines on hand is important—a sparkler, a white and a red at least. I'd recommend things high in acid (hence all the bubble suggestions above) as these will help cut through the copious amounts of heavy food you're consuming.  Also, not to beat a dead horse, but I think Zinfandel is a great holiday wine—I often say it tastes like Christmas. Pine, baking spice, red berries and the all-around comforting elements of this wine make it ideal to drink during this time of year. Also, it's got plenty of alcohol, cause you know, family.