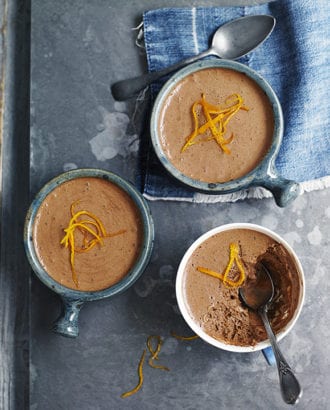 With bursts of citrus and hops, this Chocolate Orange Double IPA Mousse recipe hits the spot. For the IPA component, find an Imperial or Double IPA with low bitterness and a healthy dose of malty sweetness. Otherwise the beer will only contribute aroma, and the flavors won't complement one another. Try Avery Brewing's Maharajah, Buxton Nth Cloud, or Epic Brewing's Hop Zombie.
7 oz. semisweet dark chocolate, minimum 70% cocoa solids
Pinch of salt
2 Tbsp. super-fine (caster) sugar
Zest and juice of 1 large orange
1 Tbsp. ginger syrup (optional)
4 eggs, separated
⅓ cup Double IPA
Melt the chocolate in a bowl over a saucepan of boiling water. Stir in the salt, half of the sugar, the orange zest (reserving some for decoration), and 4 tablespoons of fresh orange juice (plus the stem ginger syrup, if using). Remove from the heat. Add the egg yolks, mixing them into the hot chocolate mixture, followed by the beer. In a separate bowl, whisk the egg whites until they form stiff peaks. Halfway through whisking the egg whites, add the remaining sugar. When firm, gently fold the egg-white mixture into the chocolate. Pour the mousse into separate serving bowls, sprinkle the reserved orange zest on top, and place in the refrigerator for a few hours (or overnight). Serves 4-6.
Reprinted with permission from Cooking with Beer by Mark Dredge. Ryland Peters & Small.