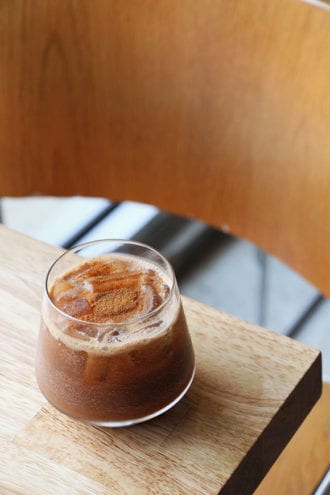 Coffee and tea don't often end up in the same cocktail, but this recipe blends their flavors beautifully.
1½ oz. coffee liqueur
½ oz. white rum
1½ oz rice milk
½ oz. simple syrup (1:1)
1 oz. almond milk
1 oz. Chiya Chai Chai concentrate
⅛ tsp. freshly ground cinnamon
⅛ tsp. freshly ground cardamom
1 pinch freshly ground cloves
1 tsp. pure vanilla extract
Tools: shaker, strainer
Glass: Old Fashioned
Garnish: cinnamon powder
Combine all the ingredients plus 1 cup of ice in a shaker and shake vigorously. Strain into an Old Fashioned glass over fresh ice. Garnish.
Chiya Chai Chai Concentrate
1 tbsp. hearty black tea
¼ tsp. ground cardamom
¼ tsp. ground cinnamon
¼ tsp. ground star anise
⅙ tsp. ground clove
⅛ tsp. nutmeg
Bring 1 cup of water to a boil and add the ingredients. Let boil for at least 30 seconds and remove from heat. Let steep for another 5 minutes. Strain the ingredients out of liquid and let cool before using. Can be refrigerated for up to a week.
---
Did you enjoy this recipe? Sign up for our newsletter and get our favorite drink recipes of the moment in your inbox every month.