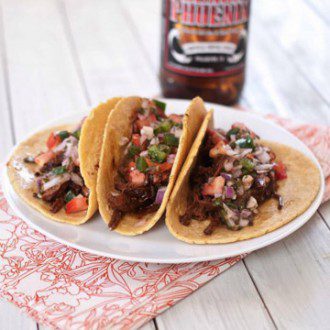 Fork-tender beef braised in beer, folded in a warm tortilla and topped with a piquant pico de gallo? Yes, please!
Braised Beef
¼ cup olive oil
1 tsp. salt
2 tsp. black pepper
2 lb. trip tip roast
1 large bottle (1 pint, 6 oz.) stout
½ cup beef broth
6 cloves of garlic, peeled
1 white onion, peeled and quartered
2 large chipotle chilies in adobo sauce, chopped, plus 1 Tbsp. adobo sauce
12 6-inch tortillas
Pico de Gallo
1 large jalapeño, stem and seeds removed, chopped
½ cup chopped red onion
2 Tbsp. lemon juice
½ tsp. salt
½ cup tomatoes, chopped
¼ cup cilantro, chopped
In a large pot or Dutch oven, heat the olive oil over high heat until hot but not smoking. Sprinkle the roast on all side with salt and pepper. Sear the meat on all sides until browned, about 4 minutes per side.
Add beer and bring to a simmer, reduce heat to maintain a low simmer.
Add the garlic, onions, chilies and adobo sauce. Let simmer on low until fork tender and falling apart, about 2 ½ to 3 hours. During the cooking process, turn the meat over about every 30 minutes. If the liquid in the pot gets low or too thick, add additional beer or hot water.
Once the meat is done, shred in the pot using two forks, remove any large pieces of fat that have not rendered. Cover and simmer for about 5 minutes.
While that is cooking, make the pico de gallo by placing all ingredients in a bowl and stir to combine.
Remove meat from pot, serve inside warm tortillas and top with fresh pico de gallo.
Jacquelyn Dodd, thebeeroness.com