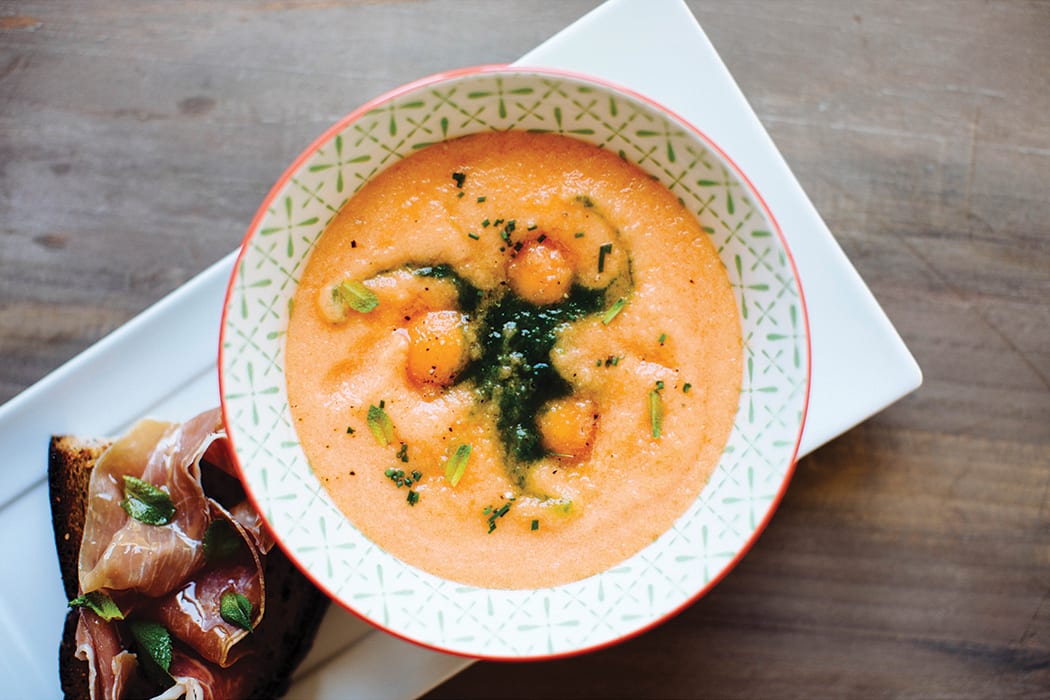 Inspired by the local produce found at Paris markets, personal chef Brian DeFehr cooked his way through all four seasons for his new book Les Marchés Français, and midsummer means melons are at their peak. Though he prefers the soup as a starter alongside crusty bread and salty, shaved ham, DeFehr notes it could easily be a dessert by simply adding a little more honey. But don't assume that just because it's puréed, sub-par fruit will suffice. "As with most fruit soups, the level of satisfaction with the final result will depend largely on the ripeness of the fruit," says DeFehr. "So find the best, ripest melons you can lay your hands on."
3 Tbsp. honey
½ cup Muscat wine or sweet Porto
1 to 2 tsp. cider vinegar
½ tsp. sea salt
½ tsp. coarsely ground black pepper
Mint Syrup
1 bunch fresh mint
2 Tbsp. water
2 Tbsp. honey
Cut the melons in half, remove the seeds, and use a melon baller or teaspoon to make balls for the soup garnish, about 5 per person. Scoop the remaining flesh into a food processor and blend with the honey, Muscat, vinegar, salt and pepper. Chill for at least 2 hours before serving.
To make the mint syrup: Wash the mint and remove all the leaves from the stems. Bring the water and honey to a simmer in a small pot over high heat and then stir in the mint leaves. Remove immediately from the heat and allow to steep for 20 to 30 seconds before blending well with an immersion blender. For a lighter mint flavor, you can steep the mint leaves for 3 to 4 minutes and then strain out the leaves. Either way, immediately transfer the syrup from the hot pan to a small jar or bowl, and place in a little bowl of ice water to cool it quickly.
Serve the chilled soup with the melon balls floating on top, and a drizzle of mint syrup.
Reprinted with permission from Les Marchés Français. Copyright 2017 by Brian DeFehr and Pauline Boldt, Running Press, an imprint of Perseus Books, a division of Hachette Book Group.
---
Did you enjoy this recipe? Sign up for our newsletter and get our favorite drink recipes of the moment in your inbox every month.