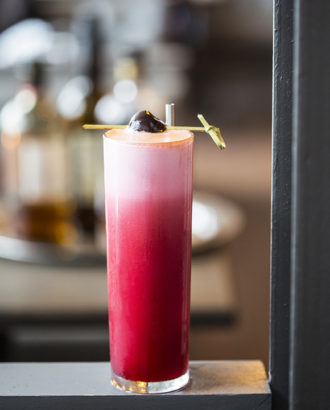 It's easy to fall in love with the lush flavors of this menu favorite at Houston's Julep. At the bar, owner Alba Huerta makes a point of honing in on classic Southern ingredients to celebrate the soul of the region, and this frothy sour is no exception. Cherry Bounce is an historic ingredient originally devised to preserve and fortify cherries to expand their shelf life; Huerta uses the liqueur part of the ingredient as a fruity sweetener to complement the vanilla and baking spice flavors of the high-proof bourbon.
1¼ oz. 100-proof bourbon (Huerta uses Old Grand-Dad)
1 oz. homemade cherry bounce*
½ oz. turbinado simple syrup (1:1)
¼ oz. fresh lemon juice
1 dash Angostura bitters
1 egg white (pasteurized if you like)
Tools: shaker, strainer, spice grater
Glass: Collins
Garnish: spritz of Angostura bitters, cinnamon and bourbon cherry
Combine ingredients in a shaker and shake vigorously without ice to start emulsion. Add ice and shake again to chill and thoroughly emulsify. Strain over ice cubes in a Collins glass and garnish with a spritz of Angostura bitters, fresh grated cinnamon and a bourbon cherry.
*Cherry Bounce note: Our recipe calls for rye whiskey, but Huerta prefers using bourbon.