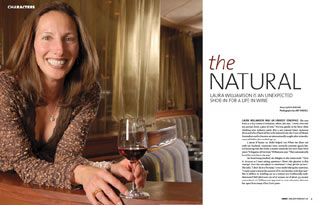 Laura Williamson was an unlikely oenophile. She was born in a dry county of Arkansas, where, she says, "I never even saw my parents drink a glass of wine." Nor was gender in her favor when climbing wine industry ranks. But a rare natural talent, immense drive and a bit of luck led her to be inducted into the Court of Master Sommeliers and to become an internationally sought-after wine educator, all before she reached age 40.
A sense of humor no doubt helped, too. When she dines out with her husband, restaurant wine stewards routinely ignore her, not knowing that she's been a master sommelier for more than three years. "It happens all the time," Williamson says, "They automatically hand the wine list to the guy."
Far from being insulted, she delights in this initial snub. "I love it. As soon as I start asking questions—'How's the glycerin in this vintage? Does the oak adjust its sweetness?'—they get the picture." She adds, "I don't do it to be mean," a wry smile belying this assertion. "I really want to know the answers if I'm not familiar with that year." But in addtion to standing out as a woman in a traditionally male-dominated field (she's now one of 16 women out of about 130 master sommeliers), it's Williamson's approach to wine education that sets her apart from many of her Court peers.
Noel Patterson, who works at VinTabla, the trendy Tucson restaurant that Williamson opened with several partners earlier this year, says of his employer, "She brings great feminine energy into an intensely male-dominated industry." Patterson, who took a course to qualify as a first-level sommelier, was flattered when she offered to mentor him for more advanced exams. "But that's typical of her," he says. "She's much more open and generous—and a lot less stodgy and snobbish—than most of the people you encounter around wine."
Perhaps that openness is partly related to the unusual path of Williamson's wine education. A desire to travel took her to Paris to study economics when she was 18. It was in France that she became acquainted with wine as a social drink. "People were curious about wine, discussed it and gave it respect," she says. "I hadn't really encountered that before with alcohol, which most people [in Arkansas] talked about in terms of impairment."
But it wasn't until she moved to Boulder, Colo., where she completed a business degree at the University of Colorado, that Williamson discovered that she had a knack for tasting wine. Through a friend who imported Italian wines, she fell in with a group who enjoyed having casual tastings. "We'd be discussing our perceptions, and I would start talking about what I was experiencing," she says. "[My friends] looked at me like I was from another planet. I felt things on my palate that no one else did, and I had a memory that just pulled things from out of nowhere. I would experience more than just tannin, acid and alcohol. I would also feel texture, weight and depth from these components and would remember wines I'd had before. It was like a sense photograph, a complete taste snapshot."
Just the type of skill one would need, say, to pass the tasting portion of the master sommelier exam. She was a natural.
And here's where the bit of luck comes in. Williamson discovered that a local wine shop, Boulder Wine Merchants, was offering classes with two master sommeliers, Wayne Belding and Sally Mohr. After taking the initial course, Williamson secured a part-time job at the shop so she could continue to study with Belding and Mohr. "They would let me buy wines at cost and we would blind taste every Tuesday," she recalls. This became a bit more complicated when she got married and moved 100 miles away to Vail. "Of course, it always snowed on Tuesday when I had to get to Boulder. I would end up spitting everything so I could drive back home."
Mohr and Belding, who have kept up with their protegée, agree that Williamson's natural talent is matched by her fierce dedication to wine education. "She has a thirst for knowledge that goes well beyond the norm, even for those who seek out the master sommelier program," Belding says. "She keeps me on my toes. Whenever I talk to her, she still wants to know the story behind every wine that catches her eye. Along with passion, she has a mind for details, and learns the facts more thoroughly than others do."
Immense cache of knowledge notwithstanding, Williamson never intimidates the patrons at VinTabla, where the New American menu is almost as wide-ranging as the wine list. Willie Joffroy Jr., a regular customer who considers himself an aficionado but not an expert, says, "When I've decided what to eat, I often call Laura over to make a wine recommendation. She always takes time to explain her choice in a straightforward manner." He muses, "She has a way of making you feel like you're asking excellent questions."
Joffroy also marvels at Williamson's skill in matching food with wine. "We once ordered a lamb dish with lots of Indian spices," he says. "It seemed like beer might be the way to go. But Laura came up with a French Gigondas from the Rhone Valley that paired up beautifully with the dish." And, he adds, "It wasn't expensive."
That's typical of Williamson's quest to make wine accessible—in every sense. During the winter high season, VinTabla offers some 130 selections by 2-ounce taste, single glass or bottle, the last at retail prices. Although the wines range from Slovenia to Walla Walla, Wash., and cost from about $20 to $200, they have one common denominator. "I always look for balance," Williamson says. "A wine has to have refinement and elegance, even if it's a big style—say, a Petite Syrah or a Carignan, which are some of the most tannic grapes you can find. I still want the acid to lift the weight of the fruit and then the tannin. Unfortunately, many Americans are afraid of the acidity but it has to be there to go with food, to balance the flavors and to cleanse the palate."
When she's not easing guests at VinTabla through their acidity angst, Williamson travels around the globe for the Court of Master Sommeliers—an unspoken requirement of membership, Williamson says—or for the Society of Wine Educators, a blanket organization for professionals throughout the wine industry, from retailers to writers. On any given week, she might turn up in Singapore, San Francisco or Italy. All in all, she's a long way from Arkansas—except, of course, in her down-to-earth attitude.
Story by Edie Jarolim