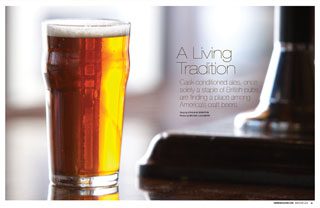 It's a breezy, blue-sky January afternoon in New Haven, Conn., and the mercury has sunk to the eyeball-chilling low double digits. Despite the frigid weather, hundreds of revelers clad in wool caps and thick coats are swarming around the entrance to Brü Rm @ BAR. These extremely dedicated drinkers are waiting to sample dozens of beers that are anything but extreme: tepid, lightly fizzy, low-alcohol, cask-conditioned ales.
At 1 p.m., the doors to the 10th annual Connecticut Real Ale Festival swing open and attendees stream into the expansive, high-ceilinged bar. Like kids at a candy shop, they excitedly grab sample glasses and flit from table to table, exchanging grey tickets for a pour of Victory's fresh, aromatic Hop Wallop or Southampton's banana-tinged Saison Brune. Instead of throwing back beers, they swirl and sniff before taking dainty sips of the aromatic brews. If this seems more genteel than most rowdy, modern beer festivals, that's because cask ales are not modern, super-charged brews. "It's beer brewed as if it were the 1800s, not 2010," enthuses Jeff Browning, Brü Rm's brewmaster and festival founder.
Creating cask-conditioned (or real) ales is not complex. Store any unpasteurized and unfiltered beer in a firkin—a wood, plastic or more often metal keg that holds 10.8 gallons, also called a "cask"—and the live yeasts added to the firkin develop a gentle, natural carbonation. (The same process applied to bottled beers is called "bottle-conditioning.") The beer is alive, changing flavor every day, even after the firkin is tapped. Because firkins aren't pressurized, "beer engines" (usually hand pumps) or gravity must dispense the nectar, best savored at 55 degrees, a temperature that accentuates its fragrant aromas and nuanced flavors. Sample a chilly, highly effervescent draught of Stone Brewing's IPA alongside the same beer from a cask, and you'll find the cask ale's flavors mellower, with the astringent bitterness made smooth. "This is what real beer tastes like," Browning says.
While the tepid temperature is difficult for some Americans to appreciate, cask ales have been making headway in the U.S., slowly transforming over the past two decades from a cultish British import to an American craft mainstay. These days, microbreweries, such as California's Lagunitas and Maryland's Clipper City, Bell's in Michigan and Peak Organic in Maine, have bought their own firkins in order to regularly offer cask varieties of their draught line. More taprooms are adding beer engines and sourcing cask ale directly from breweries. And cask festivals have sprouted from Long Island to Michigan to San Francisco, celebrating the pleasures of nuanced, lightly effervescent ales.
Hello, Old Friend
While America's embrace of real ale might seem new and novel, in many respects it's merely an embrace of the country's brewing past. At the turn of the 20th century in America, "beer was cask ale by default. There was little refrigeration, and everything was served from wooden casks," says New York's Alex Hall, an English expat who, since relocating from Brighton to the U.S. in 1999, has become a leading real ale proselytizer. "But then along came Prohibition," Hall adds, causing the death of breweries—and cask ale before it could assume that moniker.
When beer-making in America legally resumed, brewers began moving away from real ale. It's a finicky product—yeast is temperamental, and there's a short shelf life for anything but the strongest beers (five weeks unopened, three or four days once tapped). They found that if they filtered and pasteurized the beer to halt the brewing process, the flavor wouldn't change and the beer would last longer. But without yeast beer won't develop carbonation, so they force-carbonated it with CO2. This new process permitted mass-production and ensured uniform quality.
Across the Atlantic, the writing was on the bar in England. Breweries also began phasing out naturally carbonated milds and bitters in favor of gassier, pasteurized beer that, by comparison, was cold and flavorless. Displeased drinkers formed the grassroots organization Campaign for Real Ale (CAMRA) in 1971. The group agitated brewers to keep traditional English ale alive via aggressive lobbying and vocal boycotts of fizzed-up beer. Today, cask remains integral to British pub culture, and CAMRA (whose members now number 100,000-plus) continues to champion its liquid cause. "They're the reason real ale still exists," Hall insists.
Feeling Festive
Around the time cask ale received a stay of execution in England, American drinkers were barely rousing from their macro-beer slumber. Enlightening consumers about cask ales first required hipping them to microbrews. "In this country, it's hard enough to build consciousness for craft beer, much less cask," says Steve Hamburg, 56, who helped found the Chicago Real Ale Festival in 1996. "We thought, 'If you've been to a British pub and enjoyed the beers, wouldn't it be cool to enjoy the same beers in this country?' " Hamburg's dedication to cask ales was strengthened when he apprenticed as a London pub's cellarman (the employee who taps and tends to casks) in the early 1990s. To prep for the fests, he imported serving equipment and cask-conditioned beer from Britain, and he had to jerry-rig standard kegs of American beer with hand pumps.
Early on, festivals were the key to educating beer drinkers and creating demand for cask ales both British and, increasingly, American. In 1997, the volunteer-run Cask-Conditioned Ale Support Campaign launched the New England Real Ale Exhibition. That same year, California's Pizza Port Brewing launched the San Diego Real Ale Festival, while 1998 saw the first Friday the Firkinteenth at Philadelphia's Grey Lodge Pub. Mike "Scoats" Scotese, Grey Lodge's "lodge master," concocted the event (it occurs every Friday the 13th) to attract attention to cask ales. "Because there's a learning curve to get people used to beer that's naturally carbonated, having a big event with a kitschy name helps," says Scotese. The Lodge served about 17 gallons of cask during the first event. Now, Scotese says, "we do a good week's worth of business in one night"—about 240 gallons, or nearly 16 standard kegs. In recent years, firkin fests have spread nationwide. Happy Gnome in St. Paul, Minnesota, hosts an annual spring bash, while Magnolia Pub puts on a cask fest during San Francisco Beer Week.
However, cask's most tireless cheerleader is undoubtedly Hall. As an agent for UK Brewing Supplies, he sells cask equipment to bars in New York. He also pens a cask column for Ale Street News. But most of his free time is spent curating real ale festivals both stateside and international. Three times a year, he runs the Cask Head Festival at Brooklyn's Brazen Head, offering several dozen painstakingly sourced real ales. Hall acquires them by mailing empty firkins (from his personal stock of 54) to breweries nationwide that do not typically offer real ale. He also acquires imported British casks fresh off the boat.
Hall insists on serving fresh, rare casks because he sees each firkin as an opportunity to convert another drinker to the gently carbonated realm of real ale. "The point of a cask ale festival is to raise consciousness that cask can be wonderful," Hall says. "I want to create demand."
Earning a Place at the Pub
The festivals are definitely working, as more cask ales are finding a place at the bar. Anchorage, Alaska's Midnight Sun Brewing trots out a firkin the first Friday of the month. In March, Atlanta-based SweetWater Brewing hosted Brew Your Cask Off in which more than 70 guest brewers created their own unique real ale. Events like these may be gimmicky, Hamburg says, "but they're instrumental in expanding the horizon of beer drinkers."
Still, an increasing number of bars and breweries are treating cask ale as more than a novelty. For Ted Sobel, it all began with a midlife crisis. Nearing two decades as a software engineer, the Oakridge, Oregon, resident was burnt out. He quit and traveled to England, where he visited the Lake District's Woolpack Inn, home of the Hardknott Brewery. There he sampled Hardknott's warm, flavorful bitters and took a brewery tour. In the fermentation tanks and firkins, Sobel, an avid homebrewer since he was 21, saw his future: to run Oregon's first pub that brews only cask ale.
Sobel first fell in love with real ale in 1991, when he and his wife spent a month hitchhiking around the U.K. "I became hopelessly addicted to pubs and real ale right from the start," he says. "In my mind, it's not only the flavors and mouthfeel that is expressed by a well-kept pint, but the environment in which it is consumed that makes it what it is."
To re-create the British pub experience, in August 2008 Sobel opened Brewers Union Local 180, where he crafts his smooth bitters, malty IPAs and other English-style ales poured by the proper 10- or 20-ounce pint. Upon opening, Sobel hedged his bets. Unsure how the outdoorsy town favored by mountain bikers would cotton to cask, he stocked a half-dozen traditional draughts and ciders on tap. A year and a half into his experiment, "I sell two to five times as much cask as regular draught," he says. "People love the gentle carbonation, full flavors and lack of gas."
Making cask an everyday indulgence was certainly Greg Engert's goal when he devised the beer list for Washington, D.C.'s ChurchKey, settling on 500 bottled brews, 50 draughts and five cask ales. Outside of a festival, "nobody really offered enough variety for a cask beer enthusiast to just drink cask," says Engert, 30. He now clears 10 to 15 casks a week—three or four on a busy Friday night alone—with offerings ranging from Tröegs' floral HopBack Amber to BrewDog's Paradox Isle of Arran, an imperial stout aged in wooden Scotch barrels.
But feeding demand poses several quandaries unique to cask ales: Modern mechanized draught and bottling lines aren't set up to fill firkins, which must be manually cleaned, filled and primed with yeast. The extra effort means a 10.8-gallon cask can be as expensive as a keg. "It's a labor of love," says JT Thompson, brewer and resident cellarman for Portsmouth, New Hampshire's Smuttynose.
Adding to the complexity, many microbreweries have not purchased their own vessels. To ensure a steady supply, the ChurchKey purchased about 40 empty firkins—which cost roughly $150 to $200 each—that Engert pays to ship to breweries for filling. (The firkins are returned via normal distribution channels.) Still, this painstaking effort can pay delicious dividends: For instance, Avery Brewing fills Engert's firkins with its IPA, then adds to each batch a different strain of hops to alter the flavor. "Every firkin you get is a beer unto itself. It's a one-off," Engert says. "Serving casks is not profit-driven. I'm reviving a tradition that's gone by the wayside."
Cleanliness = Quality
While it's encouraging to see real ale join beer lists, bars must go beyond simply installing a beer engine and tapping a firkin; they have an obligation to handle the rather finicky beer with care. "Cask ale demands more on the serving side," says Chicago's Hamburg, "How long has it been sitting around? How has it been handled? Does the barkeep have any cellaring knowledge?"
In order to extend a cask's lifespan from three or four days to nine or 10, many bars use "cask breathers." It's a system for covering the beer with a blanket of carbon dioxide that, at low levels, does not impact flavor or add carbonation, but does inhibit oxidation and spoilage. While CAMRA shuns this practice, it's essential for many bars' bottom lines. "Most bars that can't get through a cask in three days need a cask breather," Hall says. "All it takes is one bad pint to turn off drinkers from trying cask again."
Cask's quality and flavor are also impacted by cleanliness. Because cask ales are unfiltered, a beer engine's lines are more to prone to collecting sediment. When ChurchKey's barkeeps swap out a cask, they thoroughly clean the beer lines, too. However, education often lags behind enthusiasm, so this rigorous commitment to cleanliness is hardly industry standard.
These are lessons that will come in time. Like craft beer in the late '90s, cask ale will undergo growing pains. But the good pints will eventually outweigh the bad. Britain has had hundreds of years to perfect—and protect—its cask ale tradition; America has had less than two decades. Soon, what is today a novelty can become a tradition. "Cask ale is a traditional beer," Hall says, "and tradition is never a novelty."
RELATED CONTENT
Find out the best places to drink cask ale in America, along with the cask ale festivals across the country.