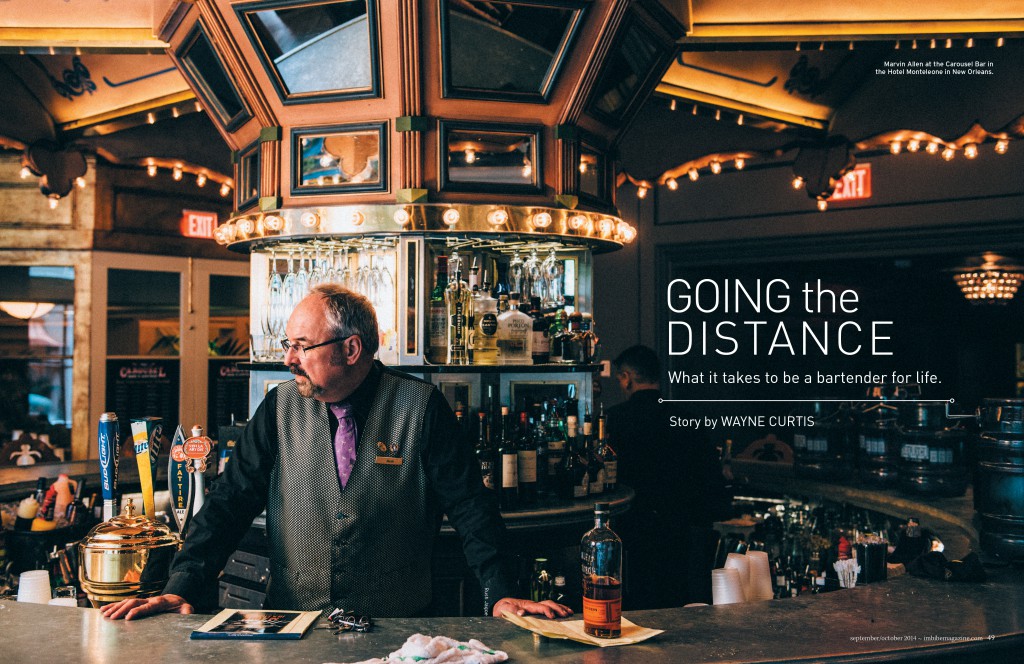 Marvin Allen is working behind the Carousel Bar at the Hotel Monteleone in New Orleans. Like a bad dream for bartenders, the bartop rotates around him every 15 minutes, creating a Sorcerer's Apprentice scenario of multiplying customers. By the time Allen makes a drink, his guests have moved a few feet away, to be replaced by a new set. To maintain a conversation, Allen has to keep scanning and shuffling, putting on mileage as the guests remain comfortably seated.
But watch him and you'll see that Allen moves economically, just as he does when he makes drinks—there's little wasted movement or effort. It's a survival skill he's honed, and one shared by many long-time bartenders, the best of whom do little with magic or razzle-dazzle. "I make sure I have good shoes with good support," Allen says.
Allen has been tending bar for 25 years, for the past dozen at the Carousel. He started behind the bar after burning out in restaurant management, and initially figured he'd spend six months or so pouring drinks while figuring out his next move. "But then I discovered I was making a decent living," he says. Plus, he liked being in a social profession. "Why mess with
anything?"
Allen's among a long line of career bartenders—from anonymous 18th- and 19th-century publicans, to industry pioneers like  Jerry Thomas and Ada Coleman, and down to the unsmiling guy who's been serving shots, cold beers and one-liners at neighborhood bars since Nixon was President. In recent years, a new wave of career bartenders has emerged, and they're riding a cultural shift: with the cocktail renaissance has come better pay, more respect and more avenues to advancement in other parts of the spirits industry. These bartenders have found a place to flourish professionally, economically, socially and personally. "In the first generation, we saw career hospitality people who decided to stay behind the bar," says Jackson Cannon, the 48-year-old bar director of three Boston establishments: Eastern Standard, Island Creek Oyster Bar and The Hawthorne (where he's also a partner). "They realized they didn't have to become general manager, but they saw themselves having the same sort of trajectory as a chef."
Erik Adkins, bar director at The Slanted Door Group, has seen much the same in San Francisco. "I see people now who are 21 and want to learn everything about product and technique and want to be part of the industry," he says. "I didn't see that when I started bartending in the early 1990s. Of course, back in the '90s, bars weren't that interesting, the drinks were crappy, and you got into it because you wanted to work around alcohol."
Tending bar is a career rife with idiosyncratic hazards—physical, economic, social, spirituous—you don't find in more traditional careers. Those inclined to sprint often don't last behind the bar, but those who understand how to run a marathon can thrive. "You have to ask yourself, 'Can I manage this?' " says Dale DeGroff, who started bartending in 1974 and has since carved out a long and illustrious career in bartending and brand consulting. " 'Can I manage a family? Can I manage my life?' "
Occupational Hazards
"Like with a great cocktail, you have to find balance," says Tony Abou-Ganim, who started working behind the bar in 1980 and has operated his cocktail consultancy, The Modern Mixologist, for the past 10 years. "It's easy to get caught up in the party."
Experienced bartenders like Abou-Ganim say that finding balance means doing so in every aspect of the job. Start with the physical demands. Bartending is undeniably tough on the body—it involves long hours on one's feet, with constant bending, reaching, hauling and lifting. Bars with a long list of shaken drinks—many using large, dense ice cubes—means sore shoulders at a minimum, and torn rotator cuffs for the less wary.  "I'm only 31, and I already feel the wear and tear on my body," says Christina Andrews at Williams & Graham in Denver. "Last night we had a rough night. My arms hurt, my legs hurt—everything hurts. There are times I have to shake like a weirdo just to get through an evening."
"Listen to your body," says Franky Marshall, who's been bartending for a decade and currently works at The Dead Rabbit Grocery & Grog in New York City. "Stretching before a shift is definitely helpful, as is trying to eat healthy. It seems like common sense, but [bartenders] need to be reminded sometimes."
DeGroff agrees. "You don't want to become one of those grouchy New York bartenders," he says. "The reason they're grouchy is because they're in pain. I've said to bartenders so many times that if you find yourself waking in the morning dreading your next shift, get out. You're not doing what you want to do."
Taking Work Home
At its most basic, the job of a bartender is to sell drinks—and arguably the most sure-fire way to run off the rails is to practice what you preach. Being around alcohol constantly—and people enjoying it—creates its own magnetic field of temptation, which many find at first irresistibly seductive, then ultimately ruinous. Bartenders who fail to figure out where to draw that line tend to wash out quickly—missing work, stumbling through shifts, getting fired. Those who succeed draw a line and know when it's safe to cross and when it's best to hold back. Sometimes that means holding back indefinitely. "I know a lot of bartenders who don't drink any more because they figured that out," says Adkins. "They'll straw-test their drinks, but when they do tastings, they spit it out."
The fortunate ones also manage to maintain a stable personal life.  "If you're lucky, you'll meet someone who understands the business—the demands, the hours, the fatigue—but who doesn't understand it too much," says Abou-Ganim, who's never been married and says that most of his relationships have been with women who work in the industry and have lasted two or three years.  "I guess it's like most professions," he says. "You work with someone, become friends, go out on a date, and the rest is history."
Malina Bickford, a Los Angeles–based bartender who's 34, got into bartending about a decade ago, but, she says, "The older I get, the more the hours weigh on me. My friends are more settled, and they all tend to have more traditional schedules. It creates a sort of divide."
DeGroff counts himself lucky to have found his wife, Jill, who understood his professional obligations as they were raising a family, and had some flexibility to work at home as an artist. "So much was dumped in her lap," he says. "My not being here for dinner, my not being here for homework."
Jill DeGroff admits that the job has its benefits—excitement, travel, a sense of community. But the career can only fit with family life, she says, "if the bartender is his own boss and has the autonomy to construct a humane work schedule for himself that allows ample time to devote to family."
"You can reason and negotiate with your partner," adds Cannon, who met his wife through his job. "But children are on their own schedule that you have to accommodate." Cannon and his wife have been married for seven years, and she took some time off to be at home with their two kids, but she's now back to work part-time. He adds that the downsides—"I'm not home for more than two dinners a week"—are offset in other ways. "I have breakfast with them five times a week and lunch with them more than most fathers do."
The Long Haul
Like many jobs, the key to longevity is keeping what's essentially a repetitive job interesting. Learning the craft and making the perfect drink can yield rewards in the first few years, but once these skills are reasonably mastered, what's next? Where's the challenge?
Successful career bartenders find ways to conquer the repetition. At the best bars, bartenders are constantly challenged to invent new drinks, improve service and to educate themselves. "What keeps it exciting for me is mentoring bartenders," says Cannon. "It's so personal, challenging, rewarding and creative to help shape how a young professional chooses their path in the industry."
Taking his own passion for bartending to another level, DeGroff has mentored many up-and-coming bartenders, including his son, Leo. ("Leo is getting a much more well-rounded education, one that simply wasn't possible when I was coming up in the business," he says. "He's consulting on bar design, service and staffing.")
DeGroff cites Sasha Petraske, Jamie Boudreau, Jeffrey Morgenthaler and Sean Kenyon as other examples of successful bartenders who actively mentor. For Kenyon, who's worked as a bartender for almost 30 years and currently heads the bar at Williams & Graham in Denver, tending bar seemed a part of the family tradition—both parents, and his grandfather, had worked behind the bar. "I knew when I was a kid that I wanted to be a bartender, because I thought what my dad and my grandfather did was really cool," Kenyon says. His father tried to talk him out of it, insisting Sean attend college, but after graduating, Kenyon says he still wanted to follow the family business. "I was good at math and got scholarships for engineering, but I always wanted to be a bartender—it's all I really wanted to do," he says.
With no children of his own, Kenyon sees mentoring as a way to continue the family tradition, and help others avoid some of the common pitfalls that come with the craft. "I want to take the people moving into the profession and help them find the right path," he says. "I think some sort of legacy is important to me—I want to leave an impression on our craft. I look at new bartenders as children in some ways—I want to raise them right."
For many career bartenders, it's a job that keeps calling. "At this point in my career, what I want to do is get back behind the bar," says Abou-Ganim, who assisted with opening Las Vegas' Bellagio Hotel in 1998 before leaving to become a consultant 10 years ago. "What I miss most is the interaction with guests."
Abou-Ganim is 54, and he thinks he's ready. He stays fit, drinks in moderation and gets plenty of sleep. Financially, he started a 401(k) when he was 25, and he's been planning for the long term, as he advises all early-career bartenders to do. Having a few hundred dollars in your savings account may be fine when you're starting out and cash pours in nightly, but not when you're thinking about winding down. "Time is not on your side when you're 50," he says.
He's also practical about what's next. "I don't want to end up at the Starlight Room at 4 a.m. with customers three deep," he says. "As a career bartender, you have to be realistic about what you'll be doing at 50 or 60."
So he's thinking: someplace nice. Like Hawaii. With relaxed shifts. "My goal is to go in about one in the afternoon and be done by about seven. And let the young kids come in when it gets busy."
Abou-Ganim's uncle worked a bar until he was nearly 80 years old, and toward the end, he would work just one shift a week. "Everyone knew him and would come in to have a couple of beers," he says. "It was more a lifestyle for him than a job." Bartending, in short, is a job where the lifestyle is often the initial attraction, but to keep enjoying it, you'll need to shift to acting like a professional somewhere in the middle. One other helpful tool for a lifetime behind the bar: good genes.  "My cousin Helen ran a bar for 70 years," Abou-Ganim says. "They took her from the bar to the hospital at the age of 91."