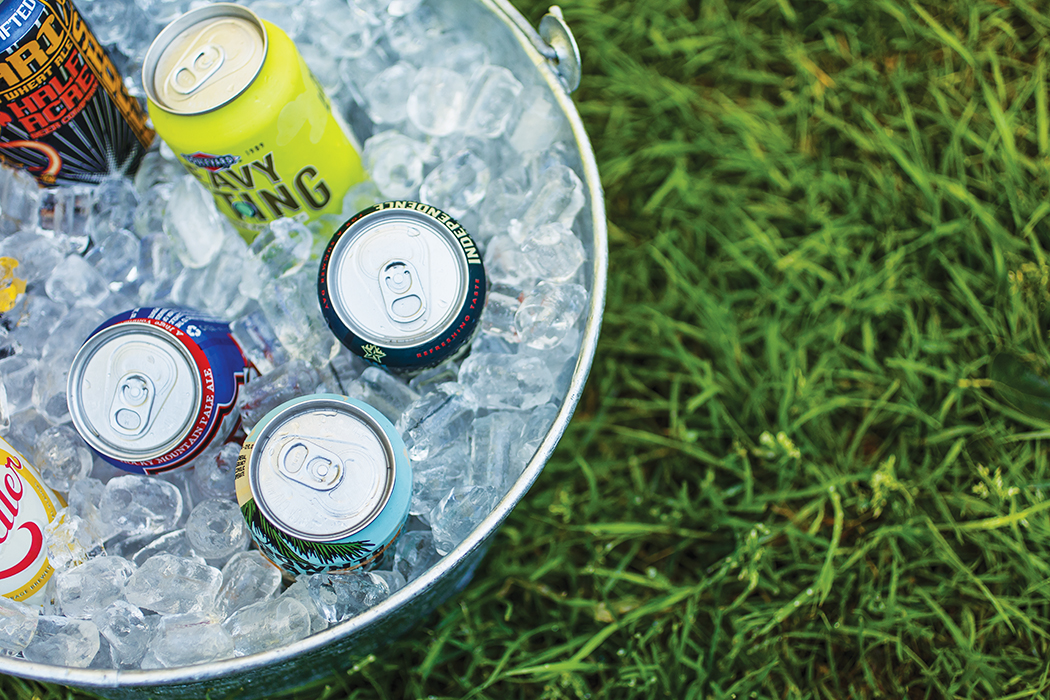 Perhaps New York City's most precious commodity is space. New Yorkers squirm for extra inches on the subway, pay princely sums for second bedrooms, and spread oceans of towels across Coney Island's sand. Cheek-to-jowl is standard operating procedure for everybody, especially brewers.
Brooklyn's Other Half, headquartered beneath a honking expressway, runs a master class in maximizing square footage. Inside a stubby warehouse, gleaming fermenters abut racks of barrels, stacks of kegs, sacks of grains and brewers crafting the city's most sought-after hop bombs. Beyond flavor, what makes beers like the tropical, citrusy Green Diamonds double IPA so lusted-after is scarcity: they're only available on draft.
That changed one cold morning in early February when Tyler Willie, owner of Connecticut's Iron Heart Canning, parked his truck outside Other Half and unloaded a portable cannery. After set-up, he and the Other Half crew started siphoning Green Diamonds into 16-ounce cans. Four hours later, the tanks were drained and Willie's wonderful machine soon returned to the road. "We have no space," says Other Half cofounder Matt Monahan. "It's awesome to have Iron Heart in and out, and then we have our product." Most releases sell out the same day, or within several days, with customers toting cans across the city and shipping them across the country. "We don't have a marketing budget," Monahan says. "Cans are a good artistic expression of what we have going on as a brewery."
Fifteen years ago, canned beer meant bulk-buy lagers, in which quantity trumped flavor. But ever since Oskar Blues Brewery clad Dale's Pale Ale in aluminum, public perception has shifted. Outdated tropes of tinny taste have vanished, as today's cans keep beer fresher for longer, ably vanquishing bottled beers' mortal enemies, oxygen and sunlight.
Today, more than 500 breweries can beer, from little guys like Georgia's Creature Comforts to stalwarts like Sierra Nevada.
"I used to track the breweries [that were] canning, and I'd feel pretty good going to bed and saying, 'I'm 100 percent caught up right now,' " recalls Russ Phillips, who runs CraftCans.com. "Now I can't keep up."
Canned craft beer's first wave concerned itself with education. The second stage was saturation. Now we're entering the era of innovation. Today, beer comes in aluminum bottles, cans with pry-off lids, resealable cans, as well as the Crowler, a canned growler. A cryotherapy company helped Pennsylvania's Vault can a nitro stout. Mobile canneries like San Francisco's Can Van and Kentucky's Toucan have lowered the barrier to entry, allowing any brewery to can beer. And cans have ushered in an era of artistic innovation, as breweries such as Half Acre, Jackie O's and Rhinegeist treat the vessels as 360-degree billboards that are perfectly sized for your palm.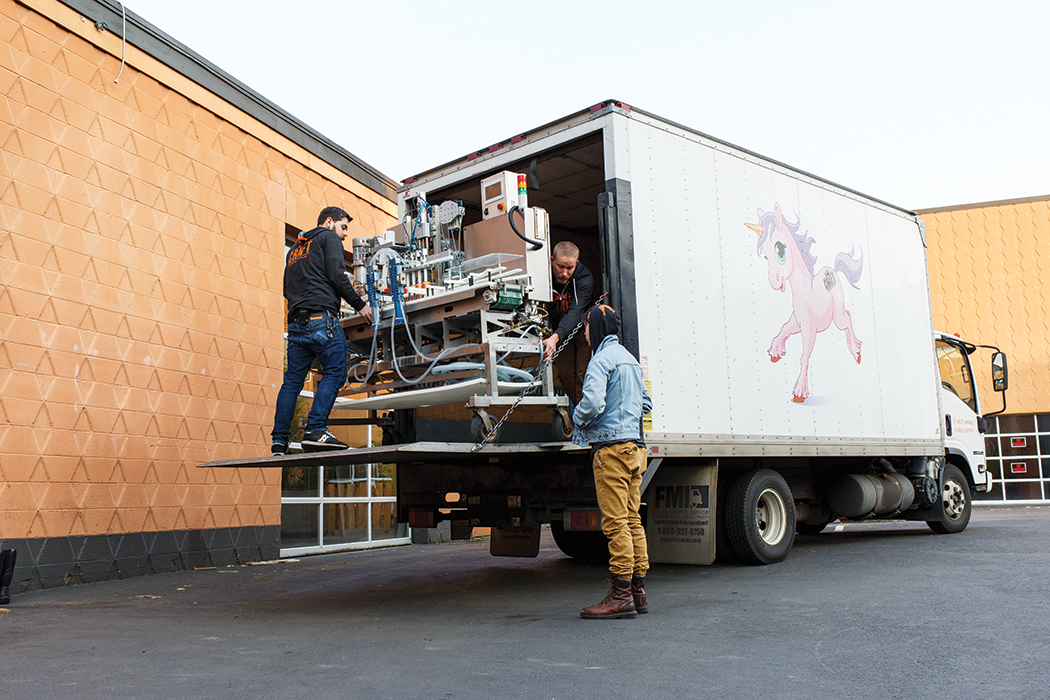 Mobile Service
Be it soda or beer, the canning business was built on pumping out truckloads of product. While this model works for Coca-Cola and MillerCoors, smaller brewers typically lack liquid volume or capital. Costs of automated machines quickly crest $100,000, and even manual canners still run around $15,000.
Affordable, small-batch canning was as mythical as a unicorn. Boulder's Jeff Aldred helped make it real. "We'll go in there with our magic sword and get your problem solved," jokes Aldred, the cofounder of Wild Goose Engineering. The firm started as a systems integrator, creating computing systems that combine hardware and software. In fall 2008, Wild Goose's neighbor, Upslope Brewing, enlisted Wild Goose to upgrade its canning line. It became the prototype for the faster, more efficient Micro-Can system.
The modular, space-saving unit was a sensation, turning Wild Goose into breweries' go-to canning fabricator. (Cask Brewing Systems and Process & Packaging Machine Corp. are other important players.) To date, the company has sold more than 230 systems to the likes of La Cumbre and Breckenridge, plus breweries in New Zealand, Australia and Brazil. "Depending how big you are, we have a machine that will fit your needs," Aldred says. At the request of several budding businessmen, Wild Goose solved the riddle of creating a portable canning unit that was easy to assemble, disassemble and transport, and that wouldn't rattle apart on the road. By fall 2011, Mobile Canning Colorado was in business, and the era of itinerant canning was afoot.
Armed with Wild Goose equipment, more than 20 nomadic canneries now roam the roads, packaging beer wherever required. Virginia's Old Dominion regularly ventures to Blue Mountain and North Carolina's Fullsteam, while Ohio's Buckeye Mobile Canning handles Yellow Springs Brewery, Seventh Son and Four String. Headquartered in Portland, Oregon, Craft Canning + Bottling services around 60 clients from Bend to Bellingham, including Rogue, Schooner Exact and Flat Tail.
Owen Lingley, a veteran of the packaging industry and a yeast lab, started the company in 2012. One early client was Bend's up-and-coming Goodlife Brewing. "We ended up packaging a hell of a lot of beer for them," Lingley says. But hold off on celebrating such success: Mobile canning works best for breweries that infrequently require the service. When breweries can three times a week, instead of monthly, the economies of scale tilt in favor of purchasing equipment. "Breweries grow to the point where it doesn't make sense for them to pay me," Lingley says. "We talk to our customers and say, 'You need to buy your own line in a year.' "
His client life cycle isn't consistent. Since breweries soon outgrow the arrangement, while others will be regular customers for years, it befits Lingley to keep a diverse clientele. He recently launched Imperial Organic Yeast, selling homebrewers canned microbes, and he keeps numerous sets of equipment that let him can gluten-free and sour beers, as well as soda, cider and coffee. "You name a potable liquid that someone wants to put in a can, and there it is," says Wild Goose's Aldred.
Though Iron Heart receives numerous requests to can cold-brew coffee, the cannery stays beehive-busy with beer and cider. Since Willie founded the company in August 2013, it's expanded to three canning lines, servicing Northeast breweries from Maine to New York. "Buying new canning lines was out of complete necessity to survive," he says. "The growth happened much faster than we anticipated." Young, booming breweries such as Portland's Foundation and Vermont's Fiddlehead are steady customers, but legacy breweries including Otter Creek and Smuttynose are key to Iron Heart's long-term health. "At their volume, if they were going to make cans a bigger part of their brand they'd have to buy a $5 million machine," Willie says. "They're not going to buy a $200,000 machine and wheel it around the brewery."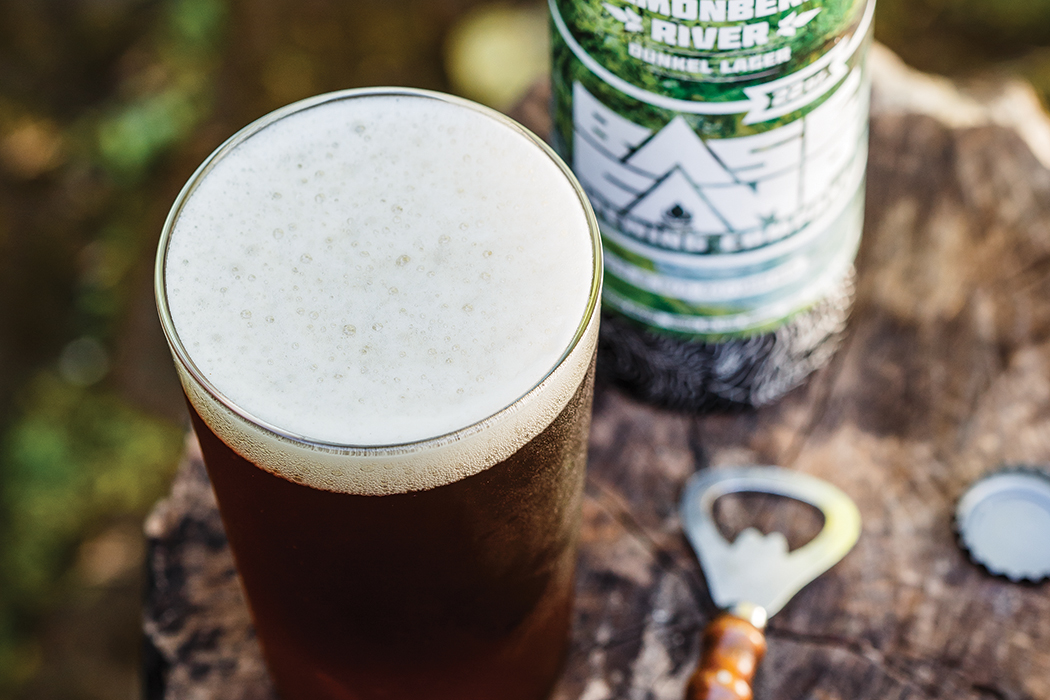 Handling Innovation
A decade ago, I spent a ski weekend in Colorado, at the mouth of Rocky Mountain National Park. To stock the fridge, my friends drove to Oskar Blues' nearby brewpub and bought cases of Dale's Pale Ale. To us, 12 ounces of canned, well-bittered pale ale felt like an anarchist's firebomb, rule-breaking and revolutionary.
Nowadays the outcast is the norm. Supermarkets stock canned 12-packs of Sierra Nevada Pale Ale and Brooklyn Lager, and canned double IPAs like the Alchemist's Heady Topper are fetish objects.
"It helped even the staunchest beer geek realize that it was not the vessel it came in, but it was the beer that mattered," says Craft Can's Phillips. There's nothing particularly notable about another canned beer. But a newfangled size? Fresh shape? That's newsworthy. To stand apart, breweries have begun embracing innovative packaging.
Portland, Oregon's Base Camp packages beers like the Ripstop Rye Pils in 22-ounce aluminum bottles, while 21st Amendment's Lower De Boom barley wine was sold in golden, energy drink–size cans. Sly Fox's 360 Cans features a removable lid, and Sixpoint puts its Bengali Tiger IPA in resealable 24-ounce "silo" cans. Sour and funky beers such as Westbrook Gose and Evil Twin Nomader Weisse now call aluminum home. Not resting on their creative laurels, Oskar Blues offers 19.2-ounce "royal pints" of Dale's and Mama's Little Yella Pils.
"The can feels like a rocket ship in your hand," says founder Dale Katechis, who notes that the format is super-popular at music venues. "The House of Blues in Chicago is our No. 1 account for that package." For Katechis, it's increasingly gratifying to see wide acceptance for his former punchline. "Early on we got laughed at a lot," says Katechis, who later adds, "Having the big guys start canning feels good. It's like helping the varsity guys to score."
Oskar Blues' next target is the growler. The 64-ounce jug is the default method to distribute draft beer for brewpubs and breweries, even Oskar Blues. While tinkering with a vintage tabletop canning machine, the sort used to seal tomatoes in steel cans, production manager Jeremy Rudolf realized the contraption could be modified to fit Ball's 32-ounce cans. This discovery spawned the Crowler Seamer, which cans draft beer in a single-use, recyclable package.
Beyond the apparent benefits (zero worries if a growler is clean, no deposit), there's also entertainment value, says Jared Brody, Ball's business development and strategic marketing manager for North America. "Many people don't know how liquid gets into a can. People think it goes through the hole."
Rick Seibt, the brewmaster at Ohio's Willoughby Brewing, one of the 120-plus retailers who have bought the $3,000 machine, seconds the appeal. "People hear the sound of the machine, see the Crowler at the bar and next thing you know they're ordering one at the end of the meal," Seibt says, adding that customers sometimes buy 10 at once. "It's a real package. It feels official."
One of Oskar Blues' other innovations was putting its Scotch ale, Old Chub, in a can with a nitrogen-filled widget—the gas that gives Guinness its creamy head and mouthfeel (the original Old Chub sans widget is still available in 12-ounce cans). Not long after, New York's Saranac unveiled its nitro-canned Disruption Brown Ale, while Pennsylvania's Vault decided to ditch the widget. "Cans are basically mini-kegs, after all. If we could nitrogenate a beer in a keg, we could do it in a can."
To clear the logistical hurdles—no one had ever canned a widget-less nitro beer—Cain enlisted cryogenic specialist Chart Industries. "There are many variables to account for when dealing with an element that has a boiling point of -320°F," Cain explains. Science decoded, Vault packaged its first release, Nitro Can Coffee Stout. It sold out in a single day. "This is huge for the beer industry," Cain says. He later adds, "We hope this will change the way breweries think about packaging options.
Can You Problem-Solve?
Today you can buy canned craft beer on trains and planes, in ballparks and national parks, fine-dining restaurants and dive bars alike. "When craft brewers are starting to get into packaging, they're overwhelmingly choosing cans," Ball's Brody says.
While the decision is easy, acquiring the cans is often difficult. Suppliers prefer to sell cans by the half- and full truckload, meaning a minimum order of say, 16-ounce cans, is typically in excess of 70,000 units. Upfront costs are the first challenge. Storing thousands of cans is the second. "With cans, the logistical side tends to get a bit trickier," says Gabriel Magliaro, the founder of Half Acre, which became Chicago's first brewery to can beer in 2010. This is a huge hiccup for space-crunched breweries such as Other Half. As a solution, the Brooklynites store cans at Iron Heart's warehouse. It's a great workaround.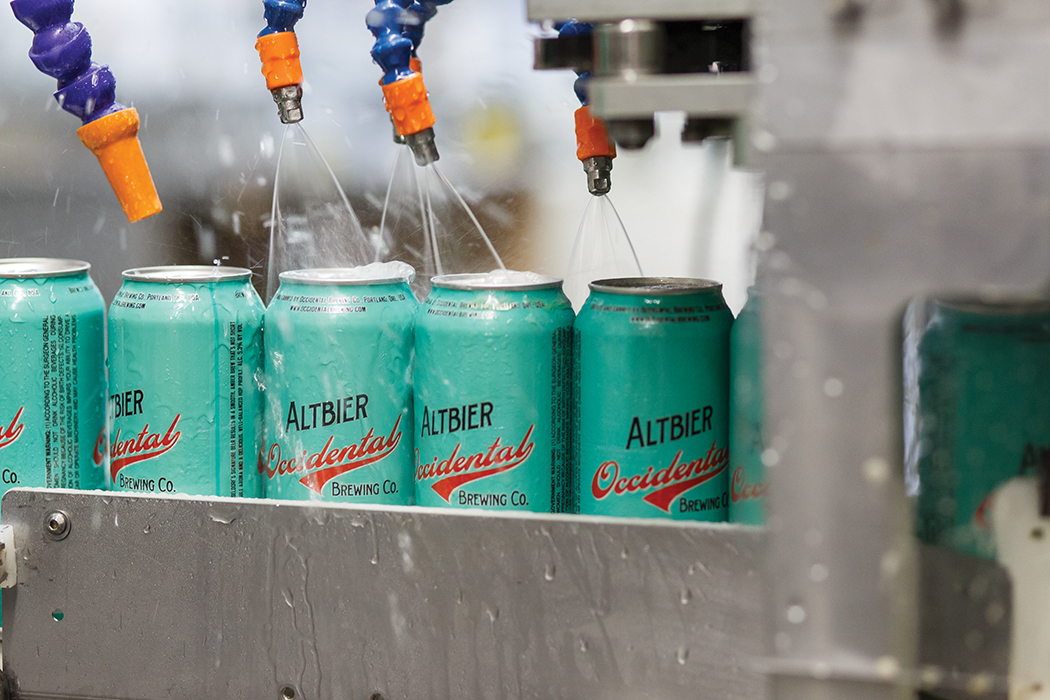 Additionally, unlike bottles, which are labeled after filling, cans come with pre-printed graphics. Canning a specialty run requires buying blank cans, then affixing stickers or labels. "You can usually get someone to put labels on for a case of beer," Monahan says, laughing.
Cost, logistics and environmental concerns aside (sourcing raw alumina, or aluminum oxide, requires invasive bauxite mining), canning has clear benefits to breweries. Beyond higher margins for 16-ounce cans—$13, $14 or even $16 four-packs are commonplace—the vessel acts as a marketing tool. "The can is your billboard," Phillips says.
In particular, Half Acre embraces cans' graphic potential. The brewery employs a full-time designer and illustrator to dream up visually charged designs such as Akari Shogun wheat ale's sword-wielding warrior or Pony Pilsner's gloriously maned horse. "Design is a gateway to introducing your beer to someone," Magliaro says. He notes that while top-notch beer is essential, graphics paint a broader picture of a brewery's identity.
"If the design is good and the beer is good, you have a pretty good chance of drawing in a fan," he says.
Thirty years ago, brewers took a stand against canned lagers and green-glass imports by embracing 12-ounce brown bottles. In time, breweries began utilizing 22-ounce bottles, corked Champagne bottles, oversize jeroboams and, at last, the can—cultural appropriation by way of the wine and beer aisles. Modern brewing can no longer be categorized by packaging, even if it's the kind you can crush beneath your feet.
Despite cans' ubiquity, Oskar Blues' battle is hardly over. "There are still purists who don't quite get that cans are a superior vessel," Katechis says. The brewery constantly educates consumers and retailers, and Katechis will happily chat with any brewer seeking advice. Quality canned beer can alter perceptions; crappy canned beer will reinforce stereotypes. "Every time I see a new can pop up, I hope that it's good. If we're asked to help make it better, we will," Katechis says. "The more beer and the better beer that there is in the cans, the better it is for everyone."
This story originally appeared in the July/August 2015 issue. Check out our top 20 canned beer favorites to crack open this summer here.