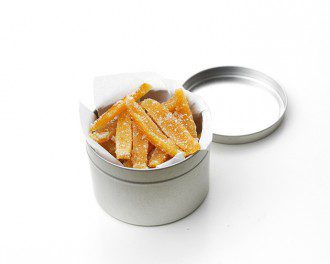 If you think the only edible part of an orange is its pulpy flesh, then it's time to try candied orange peel. On its own, the rind is bracingly bitter, but as a confection, the peel transforms into little gems of deliciousness. This recipe from Plinio Sandalio, pastry chef at Austin's Second Bar + Kitchen, steeps the strips in three separate simple syrups, creating sugar-coated treats. Package them up in tins for holiday gifts, set them out for seasonal snacking or use them to dress up wintry cocktails.
Step 1
Cut the tops and bottoms off of 4 navel oranges with a sharp, non-serrated knife. Score the peel in quarters from top to bottom. Remove the peel and cut lengthwise into ¼-inch strips.
Step 2
Add 2 cups of water and 2 cups of granulated sugar to each of 3 separate saucepans. Bring the first saucepan to a boil. While you're waiting for the sugar-water mixture to boil, fill a large bowl with ice water.
Step 3
Blanch the peels in the first boiling syrup for 5 minutes while bringing second syrup to a boil. With a slotted spoon, remove peels and shock them in an ice bath. Discard the syrup. Repeat this step with second boiling syrup, and bring third syrup to a boil as you blanch in the second syrup.
Step 4
Blanch the orange peels in the third boiling syrup for 10 minutes, remove with a slotted spoon and gently roll in 1 cup of superfine sugar. Discard sugar.
Step 5
Lay the sugar-rolled peels on a non-stick baking sheet or a sheet pan lined with a non-stick mat. Bake in an oven preheated to 175 degrees F for 2 hours. Remove from oven and let cool overnight.
Step 6
Gently roll the dried, candied peels in the remaining cup of superfine sugar to coat. Layer over strips of wax paper in a decorative tin and store at room temperature for up to 2 weeks.
TIPS: Use organic oranges if you can find them, since you'll be eating the outside rind. Also, don't crowd the sugar bowl when coating the peels—tossing about a half-dozen at a time will allow each one to get an even coat.