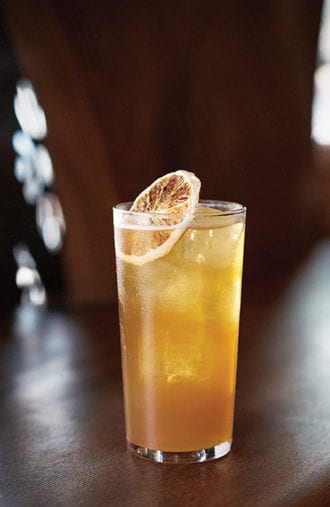 Canadian whisky gets bolstered by an Italian amaro and the nutty richness of sherry.
¾ oz. Canadian whisky
¾ oz. Meletti amaro
¾ oz. amontillado sherry
1 oz. fresh lemon juice
½ oz. cane syrup (or sub 1:1 Demerara syrup)
Chilled club soda
Tools: shaker, strainer
Glass: Collins
Garnish: dehydrated lemon wheel (or fresh)
Combine all of the ingredients except club soda in a shaker and shake with ice to chill. Strain into an ice-filled glass, top with club soda and garnish.
Robin Goodfellow, Bar Raval, Toronto
---
Did you enjoy this recipe? Sign up for our newsletter and get weekly recipes and articles in your inbox.