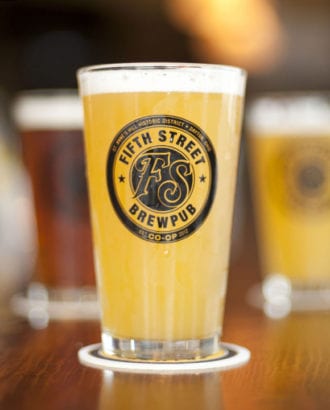 When Black Star Co-op opened in 2010, it was the first beer outfit in the United States to adopt the co-op model—operating as a community-owned and worker-managed brewpub.
It was a move that captured the attention of beer enthusiasts everywhere. In Austin alone, what started as a tiny gathering of like-minded individuals has grown to include 3,000 people and organizations dedicated to bringing quality beer—and much more—to the local community.
The co-op model benefits members by giving them a say in operational decisions, brewing styles/recipes and discounts on beer. For workers, the co-op pays a living wage, offers health benefits, paid time off, and a "pretty sweet discount package," says business team member Nicole Renaux.
"We're able to attract people because we're letting them own a piece of a values-based business," Renaux says.
Today, Black Star's model has reached beyond the Lone Star state, with the emergence of companies like Fair State in Minneapolis and Fifth Street Brewpub in Dayton, Ohio. At Fifth Street, co-founder Tony Clark admits the member and guest perks are numerous, but it was the opportunity to provide resources to local charities and small businesses that drew him to the co-op model. "Since we are now in our third year of operations, we are in a better position to provide more donations and grants to various organizations in the community," he says. "While we haven't met our goals for charitable contributions, we are making progress on our five-year plan, and eventually we hope to provide at least $50-$100K in donations directly from our revenues."
Among, Fifth Street's current charitable activities is a weekly guest bartender program. "Each Monday we invite a 501(c)(3) organization to be our 'guest bartender' for the evening," Clark says. "We designate a tip jar and donate a portion of sales for the entire day to that organization. This allows us to contribute roughly $30,000 a year." They've also held a school supply drive and a toy drive.
Meanwhile, Fair State in Minneapolis is supporting its community via the Fair State Cooperates program. Every month, the co-op's membership selects a new organization, and $1 of every growler sale is donated to groups such as the Animal Humane Society of Minnesota, East Side Neighborhood Services, and Friends of the Mississippi River.
"I think the co-op model allows people to build businesses that reflect the personality and desires of the local community," says Fifth Street's Clark. "Co-ops tend to be more customer-friendly and socially responsible because they're often created for reasons other than simply making profit. I believe that people should start more co-ops for all types of businesses, not just breweries."
Read more about how brewery co-ops benefit local communities in Joshua Bernstein's feature in the September/October 2016 issue.