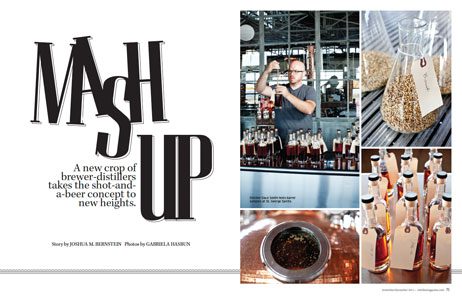 Marko Karakasevic's youthful rebellion was most unusual. As a teen Karakasevic brewed beer, daydreaming about one day opening a brewery. His parents quickly burst his illicit bubble. "My mom said, 'No beer. This is a distilling family,' " recalls Karakasevic, 38, who was slated to be the 13th generation distiller in his family's long line of distillers and winemakers.
Following a brief detour to college, Karakasevic came to his senses and joined the family trade: Napa Valley's Charbay Winery & Distillery, which dad Miles and mom Susan founded in 1983. After several years producing Charbay's wines, brandies and fruit-infused vodkas, Karakasevic's mind drifted back to beer, specifically its kinship with whiskey. Whiskey begins life as a distiller's beer, or wash, that's made with malted barley, water and yeast. Since wash traditionally lacks hops, which contribute bitterness to beer, it's a raw ingredient, not something to sip. "I thought, Why can't we distill something we enjoy drinking, like really good beer?" recalls Karakasevic.
In 1999, the distiller sourced 20,000 gallons of bottle-ready pilsner, hops and all, from the defunct Sonoma Mountain Brewery. It entered Charbay's alambic pot still and, over three and a half weeks, dad and son distilled the beer for 24 hours a day. (Unlike automated continuous column stills, alambics require constant attention.) Checking the still every three or four hours, they carefully pruned the distillate's undesirable heads and tails—the first and last liquids to leave the still—and selected the hearts, or the choicest alcohol, until 1,000 gallons of whiskey remained. The first batch, released in 2002, matured in used American oak barrels for two years, unlike the eight, 10 or 12 years commonplace in American bourbons and whiskeys. "Compared to distiller's beer, the pilsner is super-flavorful when it comes off the still," Karakasevic says of the whiskey that, despite its youth, was full-bodied and multifaceted, with hints of aromatic hops and barley. It was a spirit equally at home in a rocks glass or a pint.
Historically, distilleries and breweries have orbited in parallel universes, but in recent years brewers have begun pulling double duty as distillers, and distillers have begun acting like brewers. Anchor Brewing, one of the earliest breweries to crossover to spirits, specializes in gin and re-creations of vintage whiskeys. Holland, Michigan's New Holland Brewing creates rums, doses distillates with hops and offers a line of beer-inspired Brewers' Whiskeys. Delaware's Dogfish Head fashions rums and a hop-flavored gin. In Newport, Oregon, Rogue Ales' spirits division concocts gins, rums and whiskey made with the Dead Guy Ale's grain blend. Flipping the script, Nashville, Tennessee's Corsair Artisan Distillery releases spirits based on recipes for imperial stouts, pumpkin ales and even a witbier, while Sierra Nevada Brewing supplies the smoky brown ale that Alameda, California's St. George Spirits transforms into single malt whiskey.
Into the Wash
Launching a brewery does not require distilling know-how. But starting a distillery, especially one specializing in whiskey, demands brewing acumen. Rarely do those skills intersect, especially since home distilling is illegal—it's a felony to refine moonshine.
Lately, these industries have intertwined as brewers, armed with resources and beer-making expertise, have begun to open spirits operations. "The future is to build a brewery that doubles as a distillery," says Bill Owens, 73, president of the American Distilling Institute. "One day you're kegging beer, and the next you're brewing wash for whiskey." That synchronicity appealed to Zac Triemert, 37, president and cofounder of La Vista, Nebraska's Lucky Bucket Brewing and Sòlas Distillery. In the early 2000s, while brewing beer at Omaha's Upstream, Triemert developed an affinity for whiskey. Discovering that it's basically distilled beer "sent me on a path," he recalls. He moved to Scotland to earn his master's degree in brewing and distilling at Edinburgh's Herriot-Watt University. He returned to Nebraska in 2006 with his sights set on founding a combo brewery-distillery, but quickly discovered craft distilling was illegal in Nebraska.
Undeterred, Triemert penned a craft-distilling bill that Nebraska's legislature approved. Roadblocks removed, he quickly launched Lucky Bucket, releasing Pre-Prohibition Lager in November 2008. Getting Sòlas—Gaelic for happiness—going proved trickier. Triemert needed to navigate irksome government regulations, including one requiring breweries and distilleries to be in different buildings or divided by a wall. (His solution was a 12-foot-tall chain-link fence separating the businesses.) A year after his first beer, Triemert debuted his inaugural Sòlas product, Joss Vodka, hewn with Nebraska wheat. The Cuban-style rum Chava should appear by year's end, but he's waiting till 2013 to release his passion, an American-style single malt whiskey. "We have access to specialty malts to add more dimensions, or what I call knobs, to the whiskey," Triemert says. "We try to turn every knob, from our ingredients, to the wood we use, to how we make our cut and how long we mature our spirits, to create a one-of-a-kind whiskey."
Lucky Bucket isn't navigating the spirits world alone. At its Edgefield Distillery in Troutdale, Oregon, brewpub chain McMenamins uses its unhopped Hammerhead Ale to fashion Hogshead Whiskey, while the Ranger Creek Brewing & Distilling "brewstillery" in San Antonio, Texas, makes an as-yet-unreleased Texas bourbon crafted with rye. At its Portland pub, Oregon's Rogue Ales distills the Hazelnut Spice and Dark Rums. Similarly, Brett VanderKamp, president of New Holland Brewing, wanted to create an interpretation of rum from the early colonial days of America. "I wanted to make a nice rum in the Great Lakes region," explains VanderKamp, 39, whose brewery focuses on bold beers such as El Mole Ocho Mexican Spiced Ale and oak-aged Dragon's Milk Ale. He launched New Holland Artisan Spirits in March 2005.
"We had years of experience in mashing and fermentation," VanderKamp says. "Very effectively, we're able to get the wash to the distillery." New Holland's portfolio includes the aromatic Knickerbocker Gin, the Freshwater Rum series and spirits inspired by brewing. "We said, 'Let's take 50 gallons of white dog, throw hops in there and see what happens,' " VanderKamp recalls of the genesis of Hatter Royale Hopquila, an unaged whiskey spiced with Centennial hops (like New Holland's flagship Mad Hatter IPA). The experiment boasts floral, citrusy aromatics that recall tequila, so it's only fitting that "it makes a hell of a margarita," VanderKamp says. "It's a direct link to brewing," as is his Brewers' Whiskey line. The limited releases have included the Double Down Barley, Walleye Rye and the Malthouse, which contains six varieties of barley. "We see the natural extension of whiskey coming out of a brewery," he says. "It's a nice way to take the best of both worlds."
Send Out for the Wash
While brewing wash can help distillers stand out, many lack the space, equipment or skills to make beer. In lieu of learning or installing costly infrastructure, many distilleries contract breweries to create their whiskey base, a relationship that ensures a high-quality ingredient. "I tell people, 'Hire a brewer. Those guys know how to make wash,' " ADI's Owens says. When Denver's Stranahan's Colorado Whiskey launched in 2004, it sourced wash from Flying Dog Brewery, then Oskar Blues. Washington's Ellensburg Distillery produces Gold Buckle whiskey with wash cooked by neighboring Iron Horse Brewery. And though Sierra Nevada Brewing supplies a smoky wash for California-based St. George Spirits' whiskey, master distiller Lance Winters created the recip
e. Credit his brewing savvy.
While working at a Bay Area brewpub in the mid-'90s, Winters, 46, brought home beer to distill on the copper still concealed in his garage. "They were making really good spirits, but I had no idea why," Winters recalls. Eager to learn more, and to transition into distilling, he sought out St. George owner Jörg Rupf. Winters' résumé—a whiskey sample—earned him a month-long tryout that quickly became permanent. Winters's brewing knowledge proved invaluable when he formulated the wash for his Single Malt Whiskey. "Having been a brewer gives me a broader palette and access to different aroma and flavor profiles," Winters says. Elementally, distilleries are concerned about starch conversion—unlocking grains' sugars to create the most alcohol possible. Contrasting that, craft brewers create flavorful beers with any available grain, not caring that, say, darker-roasted grains offer few fermentable sugars. "As a brewer, you trade off on efficiency for flavor," he explains.
He distilled 18 different beers, pinpointing preferred flavor components, then wrote a recipe for Sierra Nevada.  "By starting with a brewer's background and a diverse range of grains, you have the potential to make an amazing whiskey," Winters says.
Distill the One
One of bourbon and whiskey's defining flavors is wood. Over the years, distillates aging in charred casks develop notes of lush vanilla, peppery spices and, above all, oak. Although aficionados can easily differentiate, say, sweet wheated bourbons such as Maker's Mark and a spicy Rittenhouse Rye, these spirits share a baseline barrel-aged profile. "I'm sick of over-oaked whiskey," says Charbay's Karakasevic. "What's important is not the barrel, it's what's in the barrel." He and other distillers are abandoning the time-honored traditions of Tennessee and Kentucky and taking cues from craft brewing.
Since unveiling his pilsner-based spirit dubbed, simply, Whiskey, Karakasevic has continued dabbling with beer. In 2008 he released Whiskey II (it rested for six years in American oak and four years in stainless steel), and now distills Bear Republic Brewery's hoppy Racer 5 IPA. "I don't need to set up a brewery when I have Bear Republic 20 minutes away," he says. Tanker trucks transport Bear Republic's piney IPA to Charbay, where it becomes Doubled & Twisted Light Whiskey—so-called because the liquor coming off the still twists on itself like a chain. ("Light whiskey" is a substitute for "white dog," a term for unaged whiskey that Karakasevic detests.) Aged in barrels for one day to appease government regulations, D&T drinks fruity and floral, with a greenness familiar to any hop head. "People try Doubled & Twisted for the first time and say, 'Oh my God, it tastes like the beer, but it's whiskey,' " Karakasevic says.
Though the debut D&T was basically unaged, future releases will sleep in neutral, reused oak casks and stainless steel for 17–24 months, six years and 12 years. "When you barrel-age distiller's beer for more than 12 years, it turns into one big pile of oak extract," he says. "I believe my whiskey can handle the 12 years of aging and not turn into oak extract. The oak meshes with the whiskey and doesn't become the dominant top note." Not content to work with just one beer, Karakasevic has started distilling the Bear Republic's Big Bear Black Stout too. "It uses six different grains, two different adjuncts and two different hops," he says. "How many distiller's beers can say that?"
Not many, but the distilled-beer category is rapidly growing. Germany's G. Schneider & Sohn has its banana-noted Schneider Aventinus weizenbock distilled into Edelster Aventinus by the nearby Schraml distillery. Fellow German brewery Uerige distills its strong brown ales Sticke and Dopplesticke, respectively, into Stickum and Stickum Plus. Japan's Kiuchi Brewery turns Hitachino Nest White Ale into Kiuchi No Shizuku. Yet few spirits manufacturers have embraced craft beer quite like Darek Bell, the owner and distiller at Corsair Artisan Distillery in Nashville. "When you look at the palette the distilling world uses, the paints typically consist of corn, rye, wheat and malted barley," explains Bell, 38, a former homebrewer. "Contrast that to craft brewing, where brewers use dozens of malts and adjuncts. With distilling, I think like a brewer: The better the ingredients you put into the whiskey, the better it will be."
Thus sparked many of Bell's genre-blurring distillates. His Wormwood Wit started as a Belgian witbier spiced with orange peel and coriander, before Bell added wormwood, a traditional absinthe ingredient. A pumpkin beer he brewed every fall inspired his Pumpkin Spice Moonshine, one of several spirits that, echoing breweries, will be released seasonally. The Rasputin Hopped Whiskey is a potent Russian imperial stout with a heady, hoppy nose and cocoa component; bitterness disappears during distillation. "Hops make this a very different whiskey, which appeals to craft beer drinkers," says Bell, who just released a collection of his offbeat recipes in Alt Whiskeys. In the book, Bell is careful to point out that home distilling is illegal, one of many challenges facing the budding field.
"It's probably easier to open a nuclear reactor than a small distillery," ADI's Owens says of the maze of permits and regulations. Time is another major concern, since barrel-aging whiskey is a years-long endeavor. "Sharing that with your bank becomes, 'You want to do what? And you're waiting how long before this product comes out?' " says New Holland's VanderKamp, whose Zeppelin Bend whiskey rests for at least three years in oak. Yet fresh off the still, many beer-based whiskeys are more flavorful than their oaky competition. Aging is great, Corsair's Bell says, because barrels will fix some minor problems, "but sometimes you lose the flavors that you've worked so hard to make unique." This can be a tough sell to consumers conditioned to see a spirit's age as a measure of quality. Education is a struggle, but it's a battle that breweries are used to fighting.
"I love that we can help shift the idea of what whiskey can be," VanderKamp says. "Maybe that's crazy, but years ago people said the same thing about craft beer."